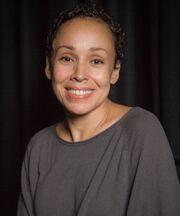 Zetna Fuentes is a director on Scandal.
Zetna Fuentes is an American television director. She was nominated for three Daytime Emmy Awards for work on the soap opera One Life to Live, as a part of the directing team. Fuentes is also a theatre director, having directed a number of New York Off-Broadway productions. She was born and raised in the Bronx, New York. She's also a director on ABC's Grey's Anatomy.
Scandal Directing Credits
Edit
External links
Edit
Ad blocker interference detected!
Wikia is a free-to-use site that makes money from advertising. We have a modified experience for viewers using ad blockers

Wikia is not accessible if you've made further modifications. Remove the custom ad blocker rule(s) and the page will load as expected.