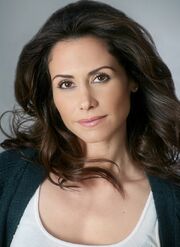 Valerie Cruz - born July 18, 1976 in Elizabeth, New Jersey - is an American television and film actress, who portrayed Carolina Florez in the first season episode Enemy of the State on ABC's Scandal.
Background & Personal Life
Edit
She attended Florida State University and received a BFA theatre degree. Valerie currently resides in Los Angeles but for the most part lives out of suitcase, traveling from location to location to film various projects. While filming the short-lived ABC drama Off the Map she lived in Hawaii.
Career Background
Edit
Valerie has had various television recurring credits, some of which include: Homeland as Major Joy Mendez, Necessary Roughness as Vera Dade, Alphas as DHS Agent Kathy Sullivan, True Blood as Isabel, Dexter as Sylvia Prado, Hidden Palms as Maria Nolan, Nip/Tuck as Grace Santiago and on the TV mini-series The Dresden Files as Lt. Connie Murphy from 2007-2008.
She's has made guest appearances on numerous primetime television series, including: NCIS (2013), Grimm (2012), The Glades (2011), Criminal Minds (2010), Law & Order: Special Victims Unit (2010), Dollhouse (2009), Grey's Anatomy (2005), Las Vegas (2004) and Crossing Jordan (2004).
Valerie's film credits include: The Devil's Tomb (2009), Eleventh Hour (2009), La Linea – The Line (2008), Cellular (2004) and the made for TV Movie Street Warrior (2008).
External Links
Edit