"They All Bow Down" is the fifth episode of the sixth season of Scandal, and is the ninety-fifth overall.
Jake and Vanessa's messy relationship poses a threat to the campaign, forcing Olivia to take action. Meanwhile, a game-changing revelation about the conspiracy surrounding Francisco Vargas's assassination is revealed.
Michael Perl as Secret Service Agent
Long Speeches & Rants
Edit
This episode was produced as the fourth episode of the season, but aired as the fifth instead.
This episode is the third flashback episode of the sixth season and nineteenth flashback episode of the series.
Promotional Photos
Edit
→ See and enjoy 14 pictures from They All Bow Down at Images from They All Bow Down.
Behind the Scenes
Edit
Promotional Video
Edit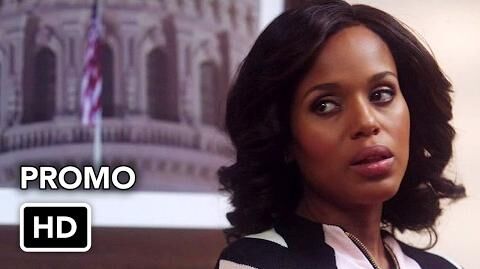 Sneak Peek
Edit
Episode Clips
Edit
References
Edit
Ad blocker interference detected!
Wikia is a free-to-use site that makes money from advertising. We have a modified experience for viewers using ad blockers

Wikia is not accessible if you've made further modifications. Remove the custom ad blocker rule(s) and the page will load as expected.