Susan Ross believed she could become the first female President of the United States of America. With Elizabeth North's plan; Susan Ross almost became the first female President of the USA.
Elizabeth North's Presidential Plan
Edit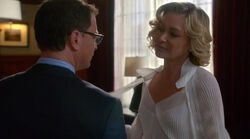 Elizabeth wanted Susan Ross to run for President because the American people like her and because she wanted to get into the Oval office, so she convinced David Rosen to suggest running for President to Susan Ross; Susan finally agreed to run for President; thanks to David calling her a "Warrior". David broke up with Elizabeth when he fell in love with Susan and to stop hurting Susan. They still worked together to help Susan but that didn't last very long, as Susan dropped out of the Presidential race because David lied to her. Elizabeth told David and Susan to stay together to make the American people believe that they were a successful couple.
Susan Loses her Nomination
Edit
Elizabeth and David still worked together to help Susan get endorsed to be President by Louise Baker. The plan didn't get very well and things backfired quite quickly; David and Susan fell back in love with each other and David promised never to hurt her again, Susan dropped out of the Presidential race because David lied to her, Olivia revealed that David had released prisoners to make Senator