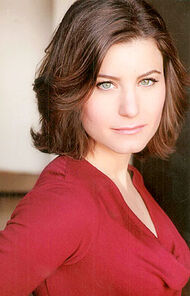 Susan Poufar is an American actress who portrays Becky Flynn in ABC's Scandal.
Personal Background
Edit
Not a lot of personal information is available about Susan… please check back later or add if you find something.
Career Background
Edit
Theatrical Credits
Edit
Sylvia in Tribes (2012)
Kayla in In the Wake (2010)
Gabrielle York (younger) in When the Rain Stops Falling (2010)
Beth Adler / Young Loë in The Singing Forest (2009)
Elise Sanger in The Dear Boy (2005)
Carla in Swimming in the Shallows (2005)
Guard 2 in Iron (2003)
Susan in Last Sunday in June (2003)
Francis in Blur (2001)
TV Guest Roles
Edit
Film Roles
Edit
Nominations & Awards
Edit
Is a well-known theatrical actress
References
Edit
Ad blocker interference detected!
Wikia is a free-to-use site that makes money from advertising. We have a modified experience for viewers using ad blockers

Wikia is not accessible if you've made further modifications. Remove the custom ad blocker rule(s) and the page will load as expected.