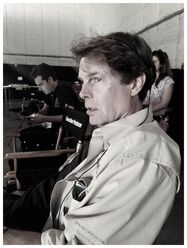 Stephen Cragg was a director on ABC's Scandal.
Stephen Cragg is an American television producer and director. Cragg has directed several network television series.
Stephen Cragg has directed and produced more than two hundred fifty hours of prime-time television. He has won the Emmy Award, the People's Choice Award, and been nominated for the Golden Globe.
His directing credits include The Adversaries (pilot), Scandal, How To Get Away With Murder, ER, Nashville, Boston Legal, Detroit 1-8-7, Grey's Anatomy, Southland, Harry's Law, Northern Exposure, Doogie Howser, MD and many others.
His producing credits include the prestigious Emmy-winning mini-series "A Year In The Life" starring Richard Kiley, the two-hour special "Alfred Hitchcock Presents" starring John Huston and the first American television series to be shot in the UK, "Emma Brody" (AKA "The American Embassy").
Scandal Directing Credits
Edit
Season 2
Edit
External links
Edit
Ad blocker interference detected!
Wikia is a free-to-use site that makes money from advertising. We have a modified experience for viewers using ad blockers

Wikia is not accessible if you've made further modifications. Remove the custom ad blocker rule(s) and the page will load as expected.