Creator, Executive Producer


Full name
Shonda Lynn Rhimes
Profession
Writer / Producer
 
 
Shonda Rhimes is the creator and executive producer of Scandal.
About
Shonda Lynn Rhimes is an American screenwriter, director and producer best known as the creator, head writer, executive producer, and showrunner of the television medical drama Grey's Anatomy, its spin-off Private Practice, and the political thriller series Scandal, all of which have aired on ABC.
Personal Background
She is the daughter of a university administrator and a college professor. Her family resided in Park Forest South, Illinois (now University Park) with two older brothers and two older sisters. Shonda has stated that she exhibited an early affinity for storytelling and that her time spent as a candy striper while in high school sparked an interest in hospital environments. She attended Marian Catholic High School, before enrolling at Dartmouth College, where she earned her Bachelor's Degree. At Dartmouth, she divided her time between fiction and directing and performing in plays. After college, she relocated to San Francisco with an older sibling and obtained a job in advertising. She would later relocate to Los Angeles to attend USC to study screenwriting. She was ranked at the top of her class and earned the prestigious Gary Rosenberg Writing Fellowship Award. Shonda earned a Master of Fine Arts from the University of Southern California's School of Cinema-Television.
After graduation, Shonda found herself an unemployed scriptwriter in Hollywood. To make ends meet, she worked at a variety of day jobs, including as an office administrator, and then as a counselor at a job center that taught mentally ill and homeless people job skills. During this period, Shonda also worked as research director on the 1995 Peabody Award-winning documentary, Hank Aaron: Chasing the Dream (1995).
Career Background
Shonda is best known as the creator, head writer and executive producer for the hit ABC medical dramas Grey's Anatomy and it's spin-off Private Practice.
She made her directorial debut in 1998 with the short film Blossoms and Veils starring Jada Pinkett-Smith and Jeffrey Wright. Shonda wrote a feature script that was purchased by New Line Cinema. This was soon followed by an assignment to write the acclaimed 1999 HBO movie Introducing Dorothy Dandridge. It earned numerous awards for its star, Halle Berry.
In 2001, Shonda wrote Crossroads, the debut film of pop singer Britney Spears. Despite being panned by critics, the film grossed over $60 million worldwide. She then moved on to Disney's sequel to its popular 2001 movie The Princess Diaries. Though 2004's The Princess Diaries 2: Royal Engagement (2004) did not score at the box office like its predecessor, Shonda later said that she treasured the experience if for nothing else – the opportunity to work with its star, Julie Andrews.
Credits
Writing Credits

Directing Credits

Director for Blossoms and Veils (1998) (short film)

Executive Producer Credits

Executive Producer for Grey's Anatomy (2005-2013)
Executive Producer for Private Practice (2007-2013)
Executive Producer for Off the Map (2011)
Executive Producer for How to Get Away with Murder (2014 - present)
Executive Producer for Still Star-Crossed (2016 -)
Scandal Writing Credits
Awards
Won
2006 – Writers Guild of America: WGA Award for New Series for Grey's Anatomy
2007 – PGA Award: Television Producer of the Year Award in Episodic for Grey's Anatomy
2007-2010 – Image Award: Outstanding Writing in a Dramatic Series for Grey's Anatomy
2011 – Image Award: Outstanding Writing in a Dramatic Series for Private Practice
2012 – Golden Gate Award at the GLAAD Media Awards
PGA – Producers Guild of America
2014 Sherry Lansing Leadership Award - 2014 Women In Entertainment
2015 Writers Guild Awards - WGA Lifetime Achievement Award
2016 International Emmys: International Emmy Founders Award
Gallery
→ See and enjoy 141 pictures of Shonda Rhimes at Images of Shonda Rhimes.
Twitter Set Photos
Videos
→ Watch more Videos of Shonda Rhimes at Category:Videos of Shonda Rhimes.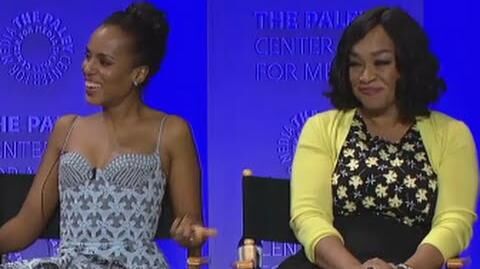 External Links
Click on any or all of the links below to view more information about Shonda Rhimes and a full filmography.
Ad blocker interference detected!
Wikia is a free-to-use site that makes money from advertising. We have a modified experience for viewers using ad blockers

Wikia is not accessible if you've made further modifications. Remove the custom ad blocker rule(s) and the page will load as expected.