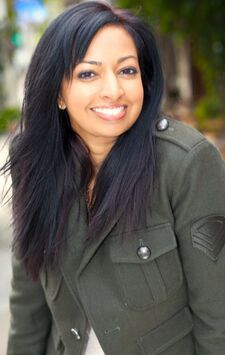 Sharmila Devar - born July 10, 1977 - is an American television and film actress who portrays Lauren Wellman, on ABC's Scandal.
She is most known for her recurring role as Lata on Outsourced and had a brief recurring role on The Young and the Restless.
Sharmila has had small guest parts in several TV shows, a few recurring roles and has appeared in short films. Her TV credits include: Marvin Marvin (2013), Private Practice (2012), The Mentalist (2008) and House M.D., Monk, Grey's Anatomy (2005) and Gilmore Girls (2000).
Her movie and short film credits include short films Happy and You Know It (2013), Seen (2004), Eastern Son, and appearing in the feature film Shades of Ray (2008).
References
Edit
Ad blocker interference detected!
Wikia is a free-to-use site that makes money from advertising. We have a modified experience for viewers using ad blockers

Wikia is not accessible if you've made further modifications. Remove the custom ad blocker rule(s) and the page will load as expected.