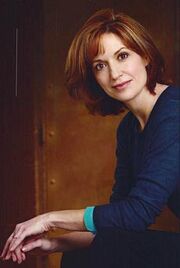 Shannon Cochran - born August 7, 1958 in Greensboro, North Carolina - is an American television and film actress who portrays Attorney General Susan Sawyer, on ABC's Scandal.
Brief Background & Personal Life
Edit
She graduated Suma Cum Laude from the Cincinnati Conservatory of Music. Shannon married to her husband actor Michael Canavan on June 14, 2003.
Career Background
Edit
Shannon has numerous credits to her name, but she is particularly recognized as having played the mysterious Anna Morgan in the popular 2002 film The Ring. She has also made numerous guest appearances on several television shows; including Desperate Housewives (2011), Fringe (2010), Numb3rs (2009), Grey's Anatomy (2006), The Office (2005), Law & Order: SVU (2004), Gilmore Girls (2001), Touched by an Angel (2001) and many other television shows throughout the 90's.
She has done extensive theatre work in Chicago, including the world premiere of "Picasso at the Lapin Agile," a play by Steve Martin. She received a Joseph Jefferson Award for her role as Gladys Bump in Pal Joey, at the Goodman Theatre. She has been nominated for several Joseph Jefferson Awards in Theatre throughout the late 90's.
Shannon is on the faculty at Steppenwolff Classes West in Los Angeles, California and has taught theatre courses at DePaul University in Chicago; along with teaching workshops in Chicago for several theatre companies.
References
Edit
Ad blocker interference detected!
Wikia is a free-to-use site that makes money from advertising. We have a modified experience for viewers using ad blockers

Wikia is not accessible if you've made further modifications. Remove the custom ad blocker rule(s) and the page will load as expected.