Season Two of Scandal premieres on September 27, 2012 on ABC. While last season consisted of just seven episodes, this season will have 13. A full season of 22 episodes was later ordered on October 29, 2012 after only four episodes aired.
The season ended with an average rating of 2.5 in the 18-49 demographic with an average 7.48 million total viewers. [1]
The UK premiere of Season Two is set for Thursday, July 4, 2013 at 9 pm. [2]
Season Overview
This season has shed light onto how Olivia and Fitz's romantic relationship started, why it stopped, when Mellie found out and why Olivia left The White House. There were six flashback episodes throughout the season that answered a lot of the unanswered questions from Season One. Last season ended with Olivia barely saving Fitz's presidency even though he wanted to just be a normal man with the woman he really loves, Olivia. Last season also brought up the question of who Quinn Perkins really is and how far Cyrus is willing to go to preserve Fitz's presidency. These questions have been addressed so far in this season.
The season opened three months after Quinn's arrest starting by answering the long awaited question... Who is Quinn Perkins??? -- Lindsay Dwyer. Lindsay Dwyer was the main suspect in a bombing that killed seven people California including her boyfriend. But how did Lindsay become Quinn and how did she get from California to DC? Well of course the country's finest fixer "fixed" that problem with the help from her trusty slick side-kick Huck. (White Hat's Off) But did Lindsay really blow up her boyfriend and six of his co-workers? That along with many more questions about this are answered throughout the course of the season.
So far this season has revealed how Fitz won his election; a group of conspirators - Hollis Doyle, Verna Thornton, Cyrus Beene, Mellie Grant and Olivia Pope - rigged the election polls in one county in Ohio, Defiance; no matter who the voters voted for, Grant/Langston won. Olivia finds romance in her ex-fiance Senator Edison Davis... he even proposes again, but Olivia turns him down when she realizes she wants difficult and crazy versus simple and easy. Abby Whelan takes up a relationship with Assistant US Attorney David Rosen but when he digs too deep into the Defiance conspiracy Olivia has Harrison Wright "take care of it!" Speaking of Harrison with Stephen gone he takes on a leader role amongst the associates. Quinn Perkins digs deep into her past and how she got her new life looking for questions and wanting answers from Olivia. Huck takes on a relationship with Becky Flynn, a former cocaine addict who turns out to be a former spy as well who set him up for the attempted assassination of the President.
Still more to come...
Season News
Cast
Main Cast
Supporting Cast
Supporting characters are those who play a bigger part in storylines of the main characters.
Season Supporting Cast:
These characters/actors only appeared in this season.

Recurring Cast
Season Recurring Cast:
These characters/actors only appeared in this season.

Minor Recurring Cast
Season Minor Recurring Cast:
These characters/actors only appeared in this season.

Guest Cast
This is a list of Guest actors/characters that appear in only one episode of the season. They are listed in chronological order by episode appearance.
1 Previously appeared in Season One as a recurring character.
2 Returns in Season Three in one episode.
3 Previously appeared in Season One in one episode.
4 Returns in Season Four appearing in more than one episode as a supporting character.
Videos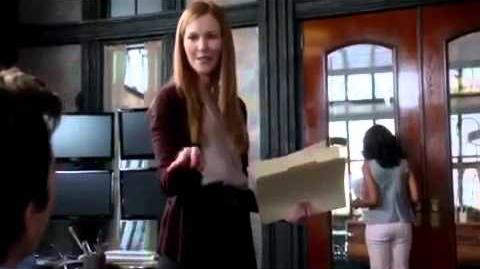 References
Episodes
#
Image
Title
Airdate
01
White Hat's Off
September 27, 2012
Quinn's true identity is revealed and as the team of Pope & Associates dig deeper into her past they find that she may be their biggest scandal yet. Meanwhile, Mellie and Cyrus put President Fitz in a compromising position during a live television interview with America's reporter, Kimberly Mitchell. On top of everything going on with Quinn Olivia and the team is called to a aide a Congressman who was caught with his pants down... literately! Read full recap
02
The Other Woman
October 4, 2012
Olivia has to deal with the ramifications of the court case's jaw dropping verdict, all the while Abby continues to press Olivia for answers. In the White House, Cyrus and Fitz deal with a foreign policy emergency. Meanwhile, the country's most prominent minister is found dead in a hotel room handcuffed to a bed with his mistress; the team is set to handle damage control, plan the funeral and Olivia has to negotiate with the wife (guest star Lorraine Toussaint) and the mistress to settle on how much it'll cost to keep her quiet. Read full recap
03
Hunting Season
October 18, 2012
Quinn returns to work leaving tensions running high at Olivia Pope & Associates - mostly with Abby - due to questions about Quinn's background. An NSA Analyst drops a bombshell striking the fear in Olivia's eyes, claiming that the government is using a new technology called "Thorngate" to spy on its citizens. Olivia is caught off-guard with how far up this scandal goes, and distracted by her problems with Fitz. Meanwhile, Cyrus has to try and keep Fitz calm and collected when Olivia's former flame, Senator Edison Davis, shows up. Read full recap
04
Beltway Unbuckled
October 25, 2012
Olivia fights for the rights of a murdered college girl who is being persecuted in the media for sleeping with every political in the city; a fight that pits her against the White House. Meanwhile, the relationship between Abby and David deepens, and he gets a step closer to figuring out the Quinn Perkins mystery. Olivia visits Supreme Court Justice in the hospital. A group of conspirators come to meet together at the closing of the episode; a group of many familiar faces... Read full recap
05
All Roads Lead to Fitz
November 8, 2012
When the wife of a governor is raped, the governor takes the law into his own hands and then asks Olivia and her team to come in and clean up his mess. Meanwhile, both Cyrus and the President are caught off-guard when Cyrus' husband, James, decides to return to his career as a journalist covering the White House. Read full recap
06
Spies Like Us
November 15, 2012
Olivia receives an anonymous letter containing a coded warning which could expose Huck's dark past. Meanwhile another Pope & Associates secret has already been exposed and Olivia asks Harrison to step up and handle it. And in the White House, Cyrus and Fitz are dealing with the ramifications of Cyrus' husband's first front page news story. Read full recap
07
Defiance
November 29, 2012
Harrison leads the team in managing a billionaire businessman who seems to have lost his sanity. Meanwhile, the White House celebrates the President's 50th birthday, and James continues to investigate Cytron and discovers something that could change the fate of the country. Read full recap
08
Happy Birthday, Mr. President
December 6, 2012
A national tragedy forces Olivia to return to work at the White House. Meanwhile, we learn more about the first few days of Fitz's presidency. Read full recap
09

Blown Away
December 13, 2012
While working in the White House, Olivia helps Vice President Sally Langston; Cyrus stumbles across the truth about James's secret investigation; and one of Olivia's associates struggles to come to terms with a shocking betrayal. Read full recap
10
One For the Dog
January 10, 2013
Olivia gets news from Edison that the President is awake; Mellie forged Fitz's name in a letter of reinstatement. When Olivia and Cyrus find out they try to figure out how to control the situation. Olivia has her associates aide with the control. Meanwhile, Sally Langston and Hollis Doyle try to find a way to keep her in office. Olivia pushes Edison away. Read full recap
11
A Criminal, A Whore, An Idiot, and A Liar
January 17, 2013
The White Hous is rocked by more changes as Fitz returns to office; flashbacks reveal more about the rigging election conspiracy and how it started. Edison makes a shocking accusation. Fitz makes a surprising decision about his future with Mellie as does Edison with Olivia. Read full recap
12
Truth or Consequences
January 31, 2013
The "Gladiators in Suits" realize that a quickly unraveling Olivia might not always wear a white hat when they discover the truth about the rigged White House election. How? They each take what they know and share it by putting the pieces together. In order to reel in Fitz, Mellie is forced to take extreme measures. David Rosen takes his investigation into the Cytron explosion to the next level and arrests Hollis Doyle. Flashbacks to the Quinn's former life as Lindsay Dwyer with Jesse Tyler the weeks leading up to the explosion reveal more about the Cytron explosion. Read full recap
13
Nobody Likes Babies
February 7, 2013
As David learns more and more about the Cytron case, things come to a head for Olivia, Cyrus, Mellie, Hollis Doyle and Verna Thornton; the conspirators go to extreme, even unconscionable lengths to protect themselves and the ones they love. Abby hits an emotional bump in the road, Quinn has a decision to make... move on as Quinn or go back to being Lindsay Dwyer, and James gets into some legal trouble. Olivia comes tot he realization of who shot the Fitz, if not Hollis, then who? Mellie, Cyrus, Sally, Verna, and the list goes on... Meanwhile, Verna faces the throws of death and Fitz learns a shocking secret! Read full recap
14
Whiskey Tango Foxtrot
February 14, 2013
Ten months later... after discovering the truth behind defiance, Fitz is still struggling to figure out whom he can actually trust. Meanwhile Olivia is trying to move on with her life, and she meets a handsome stranger, Jake Ballard, who sparks her interest. But when Fitz and Olivia are forced to be in the same room again, real sparks fly and things get heated. Back at Pope & Associates, the team handles a new case, and for the first time they're working with David Rosen instead of against him. Read full recap
15
Boom Goes the Dynamite
February 21, 2013
Olivia and the team end up acting as high-powered matchmakers for Peter Caldwell, an up-and-coming politician; David turns to Pope & Associates when he thinks he is being followed; Fitz is faced with a delicate hostage situation along with who he can trust. Meanwhile, Cyrus tries to find ways to make it back into Fitz's good graces, except Mellie is thwarting his every attempt, unknowingly to Cyrus. Read full recap
16
Top of the Hour
March 21, 2013
Olivia finds herself in the middle of a media storm, but this time she's on the opposing side of the oval office when Fitz's pick for Supreme Court Justice is caught in a torrid affair with Liv's new client, high-powered CEO Sarah Stanner (guest star, Lisa Edelstein). Meanwhile, Olivia and Jake continue their flirtatious relationship, while Huck takes Quinn under his wing and Harrison and Abby try to figure out where they stand with their friendship. Back in the White House, Cyrus and Mellie continue to fight for Fitz's attention, but someone else may already have it. Read full recap
17
Snake in the Garden
March 28, 2013
Hollis Doyle's daughter is kidnapped; Jake and Olivia take their relationship to the next level; Cyrus is determined to get back into the president's good graces; Mellie tells Fitz that he needs to make some changes. Olivia is threatened by the Director of the CIA, Grayden Osborne after he realizes her team is talling him; Huck continues to train Quinn and their friendship bond grows stronger. David walks into his apartment while it is being ransacked; he assists the team with their latest client. Fitz is looking forward to his weekend with his kids, but will Mellie tries to get in the way of that. Read full recap
18
Molly, You in Danger, Girl
April 4, 2013
After the apparent suicide her husband, former CIA Director Osborne, Susan Osborne seeks the help of Olivia Pope & Associates to prove her husbands innocence and to prove that he didn't commit suicide. Facts start to pile up proving that he was not the mole and that he did not kill himself; leading back to a former client. Jake and Olivia's relationship goes to the next level. Mellie & Fitz are interviewed about when they first met. Olivia makes a shocking discovery that leads two of the gladiators to be harmed; one hospitalized the other in traumatic shock.Read full recap
19
Seven Fifty-Two
April 25, 2013
Information about Huck's past is revealed, how he met Olivia, who he was before he joined the CIA, when he joined the CIA, when he first met Charlie, plus does he have a family? Not realizing that someone could be watching, Fitz and Olivia have an emotionally charged conversation; after finally meeting Jake, Cyrus becomes increasingly suspicious of him. Mellie takes drastic action when Hal informs her of the President's whereabouts. The gladiators - Harrison, Abby & Quinn - reveal information about themselves to Huck while he's out of repeating "752" over-and-over again-and-again. Read full recap
20
A Woman Scorned
May 2, 2013

The team makes a shocking discovery while investigating the mole; Fitz orders Jake to keep Olivia safe; Cyrus must clean up after Mellie's ultimatum. Huck discovers that Charlie is the one who trapped him in that box; the team also makes some shocking discoveries about Charlie. James is given a great job opportunity that he can't turn down, he accepts after Cyrus gives him his blessing. Cyrus and James become closer and their marriage problems go away. Jake continues to meet with his Mysterious Man.

21
Any Questions?
May 9, 2013
Cyrus is on damage control after Mellie's shocking live interview with James where she revealed that her husband is a lying cheating bastard. Olivia panics when she learns that whoever the mole is knows about "Defiance", and David finally learns the truth about the Cytron card. Mellie calls in her own fixer who probes her to find out who the mistress is, but she won't give it up. Fitz reveals to Cyrus that he will not be seeking a second term. Jake meets up with the Mysterious Man, to show him he's discovered the man who's on to him… Charlie (who Jake is well aware of works with Cyrus). Cyrus gives James some information that shocks him and hurts him at the same time. Charlie gives up the name of the mole. Huck has to make a tough decision. The mole is revealed as well as who they've been working with.

Olivia is betrayed by someone close to her and someone from the past returns to shake things up.

22

White Hat's Back On
May 16, 2013
As they grow closer to uncovering the mole's identity, Olivia and her team find themselves in an increasingly dangerous situation. The latest White House scandal pushes Cyrus over the edge. Quinn's training with Huck takes a GIANT step forward. All this and more with a shocking ending... leaving us hanging until September! And one more thing... who is the Mysterious Man? Is he tied to Olivia?