Shonda Rhimes
posted on twitter on May 10, 2013 that
ABC
ordered a third season of
Scandal
. Horray gladiator and fans we get another season of the "OMG moments". Premiere date has been announced, Thursday, October 3rd; with a full 22 episodes ordered. The first half (first ten episodes) will air back-to-back, a short break, then the season will end with the last half (last twelfth episodes) also back-to-back.
[3]

ABC has reduced Scandal's episode order this season from 22 to 18 episodes. ABC didn't give an official reason, but this cutback is likely due to the pregnancy of star Kerry Washington. [4]
Table Reads
Edit
(These are provided dates of when the cast & crew read the script as a group. These are NOT the air dates!)

FUN FACT: At table reads Shonda Rhimes has a specific seating assignments for the cast. "When plots thicken, the seating arrangements change."[25]
Season Three News
Edit
The writers of Scandal begin working on season three stories on May 20, 2013 - only four days after the season two finale.
Scott Foley (Jake Ballard) has been promoted to series regular for the upcoming third season. [1]
The writers took a break from story plotting in early June. [2]
The writers returned to the writers room on Wednesday, July 10th. [3]
The title of the season premiere has been released, It's Handled, which was written by Shonda Rhimes and will be directed by Tom Verica. [4]
The first table read took place on Thursday, July 18, 2013. [5]
The OPA officer sets are in prep for Season Three. [6]
On Friday, July 19th the cast of Scandal got together for the official Season Three publicity photoshoot. [7] And on Thursday, July 25 the cast got together for a "super secret" photo shoot. [8]
Filming for season three began on Monday, July 22. [9][10]
Grey's Anatomy alum Debbie Allen is rumored to direct an episode of Scandal. [11]
Jeff Perry (Cyrus Beene) officially announced on twitter that he will be directing an episode this season. [12]
Tony Goldwyn chatted with Renee Bargh from Extra about the upcoming season on August 22, 2013. [13]
Lisa Kudrow, Dan Bucatinsky's (James Novak) producing partner, will have a recurring role on the show this coming season. [14] News about her role have been revealed. [15]
Jack Coleman will be joining the cast in a recurring role as Daniel Douglas, as reported on Tuesday, September 24. [16]
Kerry Washington confirmed in a very cautious way that Columbus' character (Harrison Wright) will be getting a love interest this season. [17]
The cast went on a filming hiatus from November 12 - December 2, 2013. [18]
The production team opted not to write in Kerry Washington's pregnancy into the show; instead they'll be hiding her fast growing baby bump! [19]
Adam Shapiro, husband of series regular Katie Lowes (Quinn Perkins), will be reprising his role as Jesse Tyler in the second half of the season. [20]
The "First Kids" have been cast. Dylan Minnette will play Jerry Grant, Jr. and Madeline Carroll will play Karen Grant.[21] Both have appeared on ABC's Lost and Grey's Anatomy. * They make their debut appearance in Mama Said Knock You Out.
Nazanin Boniadi debuts in a recurring role upon the return of the last eight episodes of the season. Information on her character is being kept under wraps.[22]
Series Cast
Edit
Main Cast
Edit
Supporting Cast
Edit
Recurring Cast
Edit
Season Cast
Edit
Supporting Cast
Edit
Recurring Cast
Edit
Guest Cast
Edit
Production Credits
Edit
Beginning Credits
Edit
End Credits
Edit
(This list is a selected list based off of the persons job/title and is listed in order of credit.)
Costume Designer- Lyn Elizabeth Paolo
Consultant- Chris Garrett
Executive Story Editor- Matt Byrne
Executive Story Editor- Zahir Mchee
Story Editor- Chris Van Dussen
Co-Producer- Noah Evslin
Associate Producer- Holden Chang
Casting by- Linda Lowry, C.S.A. & Will Stewart
Location Manager- Veronique Vowell
Legal Consultant- Bruce Cormicle, Esq.
Sneak Peeks
Edit
Season Three Promo
Edit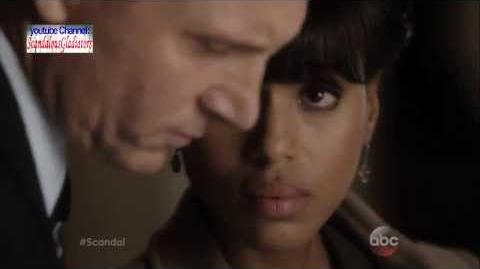 #
Image
Title
Airdate
01
It's Handled
October 3, 2013
Only 22 minutes have passed between the second season finale and the start of the third season. Rowan Pope has taken his daughter, Olivia Pope, to her disappear for a while; but Cyrus convinces her otherwise! The gladiators offer to help their boss out, but she turns them down; so Harrison takes the lead and the gladiators begin to look for a solution, while Olivia is trying to secure OPA's clients.

At The White House Cyrus is busy trying to manage the crisis, while he was searching to find out who talked to a reporter. After James gives him a hint, Cyrus recruits Mellie for her help. Communications staffer Jeannine Locke works to manage the press who are bombarding her for details.

Fitz, Olivia and Mellie meet in a secret location to discuss how "they" want to handle the crisis and what to tell the press. After some aggression from Mellie they eventually come up with a plan they all agree to. Cyrus begins to take drastic matters and information about Olivia's past is revealed. Harrison contacts Cyrus before he can put his plan into motion. Olivia grills her dad about where Jake Ballard is.

Moments before Fitz & Mellie are going to talk to the press some information about a White House staffer is publicly revealed. It's discovered who outed Olivia's name; ending with Rowan revealing information about Cyrus and Jake's past!!!

To read the full recap click here.

02
Guess Who's Coming to Dinner
October 10, 2013
Flashbacks reveal more about Olivia's relationship with her father, Eli Pope and a little more about her past relationship with Edison Davis. Through the flashbacks we see how Olivia and David Rosen first met. And more about Olivia's relationship with homeless Huck is shown.

Back in the present, The White House and Olivia Pope & Associates work to clean up the mess they created by outing Jeannine's name to the press. Olivia plans to have Jeannine speak to the press and deny the affair, while Cyrus & Mellie push Fitz to hold a press conference and admit to the affair.

Meanwhile, Olivia works to get Jake free from "the hole." After the gladiators meet Daddy Pope Quinn goes looking into Olivia's past; but Huck tries to stop her, until she comes across something that involves him.

Huck learns shocking information Olivia kept from him… what could it be??? And what action will he take! Read the recap to find out.

03
Mrs. Smith Goes to Washington
October 17, 2013
A mother from the Midwest – Mary Nesbitt – hires Pope & Associates under mysterious conditions; Mellie and Fitz confess their true feelings. Meanwhile, Jake recuperates at Olivia's apartment.

After a man nearly bursts into the Oval Office ranting about "Operation Remington" Mellie & Fitz are escorted back to the bunker. Cyrus contacts Rowan; Rowan asks an "old" friend to take care of the ranting man.

Mary Nesbitt walks into Capital Hill with a bomb strapped to herself ranting about how her son was murdered by the FBI. She's holding a Congressman, six of his aides and Olivia hostage. Olivia plays negotiator with Mary and the FBI negotiator.

Huck has gone MIA from Pope & Associates since his last encounter with Olivia; instead of coming to work he trails Command aka Olivia's father, Eli Pope!!!

To read the full recap click here.

04
Say Hello to My Little Friend
October 24, 2013
During a struggle to find clients, Pope & Associates agree to work with a philandering senator who has taken explicit photos of himself and is on trial for murder; they go up against newly appointed US Attorney David Rosen.

Mellie ends up in a scandal of her own with Congresswoman Josephine Marcus and Fitz learns a friend from his time in the navy committed suicide.

Meanwhile, Jake worries about Olivia's relationship with her father,
Eli Pope aka Command aka Rowan. Quinn worries about Huck, Abby and David spark up their relationship.

And Fitz pays a surprising visit to an old friend...WHO???

To read the full recap click here.

05
More Cattle, Less Bull
October 31, 2013
The team investigates Democratic Congresswoman Josephine Marcus after she hires them to "fix" a problem from her past. Governor Samuel Reston returns for re-election where he goes head-to-head in the Democratic Presidential Debate against Congresswoman Marcus.

Fitz & Jake have fun playing basketball, while Olivia and Mellie have a surprising run-in during The White House Correspondents' dinner. And Abby & David (aka DAbby) continue with there relationship struggles.

Cyrus and Mellie meet with campaign manager Leo Bergen for Fitz's re-election campaign, he turns them down. Vice President Sally Langston later corners Mr. Bergen, in an odd location, about her "hypothetically" running for President as an Independent candidate.

Meanwhile, Jake and Huck get closer to the truth about Operation Remington. Huck finds out some shocking information that will SHOCK Olivia's world!!!

To read the full recap click here.

06
Icarus
November 7, 2013
Olivia is still stunned about what Huck & Jake told her about her mother's death. She flashbacks to the last memories she has of her mother. But work must continue at Pope & Associates, so Liv finally makes a decision between Fitz and Josie Marcus.

Sally has a strategy meeting with Leo Bergen about running for president. In the meantime Mellie and Fitz must sit through a dinner with Sally and her husband Daniel Douglas, who as it turns out has a flaw of his own.

Cyrus threatens Harrison to get OPA to leave Josie and come back to run Fitz's reelection campaign. His loyalties are tested; not sure what to do he turns for help from the one member of OPA you'd least suspect. Huck continues to push Quinn away, so she takes her frustration out using her new toy and runs into an old foe in the process. Meanwhile, Charlie returns to recruit someone for B613 on Rowan's orders. And Jake seeks out help from an old navy friend to get more proof about the plane crash Olivia's mother was killed in.

Olivia still wants answers, but is too afraid to call her dad out of fear that he'll kill Huck, Jake and even her. After getting nothing from Fitz Olivia calls Eli, but he only gives her ONE question… what did she ask?

To read the full recap click here.

07
Everything's Coming Up Mellie
November 14, 2013
Flashbacks 15 years into the past, at the beginning of Fitz's political career reveal a lot about how Mellie became who she is. Jerry Grant attempts to hire Cyrus Beene to run Fitz's campaign. Back in the present Mellie is giving a tour interview of the White House to help boost her image in the public eye. Fitz keeps letting her down, but at the final interview he comes to her rescue and stands up for his wife.


Olivia finally updates the OPA team – Harrison, Abby & Quinn – about what she's learned about her mother's death, who becomes their newest client. They search for any of the airline employees that worked when Flight 522 boarded. Jake helps out the team.

Meanwhile Quinn is still looking for that adrenaline high; she continues to hang out with Charlie, unbeknownst to Huck. Her relatonship with Charlie starts to become more than just mentor/mentee. But her bloodlust could put her in serious danger. And Rowan pays a surprising visit to a prisoner… who could it be?

To read the full recap click here.

08
Vermont is for Lovers, Too
November 21, 2013
Olivia and the team handle a crisis at Josie Marcus' residences, Candi's campaign laptop was stolen. Harrison is sent to baby sit Candace, but he does a lot more than that! Meanwhile, Huck and Jake continue to look more into Operation Remington and trying to I.D. who murdered the security guard that could answer questions about the flight Olivia's mother was on. Little do they know the killer is against them… Quinn!!!


At the White House Cyrus and Mellie continue to plot against Sally. Fitz takes a detour to Vermont, he shows Olivia something special. Mellie becomes suspicious again. Rowan tells Maya more about their daughter. She demands to see Olivia, but after he refuses she does something drastic. Charlie reminds Quinn that he owns her.

Huck learns the truth about Quinn!!! How will he act??? Olivia gets a surprising visit from someone she never suspected she'd see again!

To read the full recap click here.

09

YOLO
December 5, 2013
With Mama Pope back in Olivia's life, she starts to have flashbacks of the last day she saw her mom, trying so hard to put the puzzle together of why she left and what she really left for. The answer leaves her stunned! Meanwhile, Huck begins to interrogate Quinn using his old techniques that he learned from his days at B-613. But to start off he does something a little different and odd! Charlie saves the day.

At the White House Sally prepares to resign as the Vice President and announce her run for the first female President as an independent candidate. And Cyrus stays in a holding pattern with the pictures of Daniel Douglas and James, which ends up blowing up in his face. Daniel Douglas confronts James about what happened with the two of them.

All of that and more ending with Sally doing something sinful, Olivia saying goodbye to a loved one and Quinn about to do something catastrophic that could hurt Olivia!

To read the full recap click here.

10
A Door Marked Exit
December 12, 2013
Sally is in shock after killing her husband, Daniel Douglas. She recalls the conversation they had that led to his death. Cyrus shows up to handle things, he covers her murderous act. Fitz takes Rowan into custody and interrogates him about why he was ordered to take down the plane.

The OPA team scrambles to stop Maya from getting away once she lands in Hong Hong. Mellie visits Sally about her loss and reveals that Cyrus told her the true story. Leo tries to use Daniel's death to make Sally look even better politically for her run as president.

James as a tough decision to make about his future with Cyrus and Jake takes on a new role at B-613.

To read the full recap click here.

11
Ride, Sally, Ride
February 27, 2014
The White House deals with a bombshell announcement from  Sally Langston. Meanwhile, Olivia finds herself in a challenging new role. Also, Leo Bergen and Cyrus butt heads!

To read full recap click here.

12
We Do Not Touch the First Ladies
March 6, 2014
Damaging information about Andrew Nichols is going to be exposed on national TV unless The White House with help from OPA can find a way to shut down the story. Olivia has suspicions that her father has something to do this. She seeks out Jake for help. Olivia also confronts her father about the situation at one of their family dinners, while Quinn is spying on them. Olivia spots Quinn, confronts her and asks her to come back home, to OPA.

Adnan gives Harrison a briefcase of cash and insists he give the money to Fitz's re-election campaign. Huck is acting weird around Olivia… weirder than usual for him. Charlie is given a job from his new boss but doesn't let Quinn help after Jake made it clear that Quinn is not and will never be B-613. Cyrus also recruits him a problem within The White House.

Fourteen years ago, Fitz and Mellie have hit a downfall in their relationship; she won't let him touch her. Andrew discovers Mellie unconscious and an empty bottle of pills with her. She tells Andrew the truth about what happened with Jerry only one year ago.

Meanwhile, Hollis is back in The White House. He's there to offer support (i.e. money) to one of the candidates as a quod pro quo. But which candidiate? And in a shocking twist… a secret is revealed about Tom (who now has a last name). And to top it all off Maya's back in town!

To read full recap click here.

13
No Sun on the Horizon
March 13, 2014
A well prepared Fitz gets thrown a curve ball during the first presidential debate, Olivia receives shocking news and is forced to make an extremely difficult decision, and the gladiators work with a powerful CEO accused of murder. Meanwhile, one dirty little secret could lead to deadly consequences and newly revealed B613 agent Tom is put in a compromising position.

And someone pays the price for their actions, costing them their life... who???

To read the full recap click here.

14
Kiss Kiss Bang Bang
March 20, 2014
The White House is in mourning after news breaks that James Novak was shot and killed in an attempted carjacking. Cyrus flashbacks to all the first memories he has of James. Olivia tried to do Cy's job for him all while putting the "true" pieces together of James' death. Each one of the gladiators comes to the same conclusion but different ways as to who truly is behind James' death.

Sally sets a meeting with the NRA which sends The White House into a tailspin. Olivia and Huck come to shocking realizations and a surprising person asks for help from Pope and Associates.

Mellie and Andrew head off to Texas to get the support of the NRA, which results in some "heated" moments.

To read the full recap click here.

15
Mama Said Knock You Out
March 27, 2014
coming soon
16
The Fluffer
April 3, 2014
coming soon
17
Flesh and Blood
April 10, 2014
coming soon
18
The Price of Free and Fair Election
April 17, 2014
coming soon
References
Edit