From the creator and executive producers of Grey's Anatomy and Private Practice comes a drama revolving around the life and work of a professional crisis manager and her dysfunctional staff.
Olivia Pope (Kerry Washington) is a former Presidential media relations consultant who has dedicated her life to protecting and guarding the public images of America's high society elite. Pope opened her own consulting firm after leaving the White House, hoping to start a new chapter in her life not only professionally, but personally. However, no matter how hard she tries, cutting ties with her past seems to be easier said than done. As for her new staff, who specialize in fixing the lives of other people, the issues in their own lives turn out to be more challenging to fix than those of their clients.
Series Notes
Edit
Former Bush administration press aide Judy Smith is rumored to be the inspiration, at least partially, for the main character of Scandal, Olivia Pope.
Soundtrack
Edit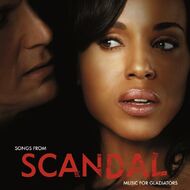 Scandal creator Shonda Rhimes announced on Twitter that the first soundtrack album will be released on September 3, 2013. "Songs from Scandal: Music For Gladiators" [1] Click here to pre-order.
With a dozen songs the soundtrack will feature many artist, such as: Johnny Nash, Booker T. & The MG's, Chaka Khan, Betty LaVette and many more.
Some of the tracks listed are: "I Can See Clearly Now," "Respect Yourself," "I Believe in You" along with 9 more tracks.
Michael Bofshever as Senator Watson (deceased)
Production Credits
Edit
Scandal was created by Shonda Rhimes; she is also the show-runner. The show operates out of ABC Studios.
Tom Verica - Head Director
Michael Kattleman
Allison Liddi-Brown
Paul McGuigan
Steve Robin
Producers
Edit
Name
Position
Year(s)
Note(s)
Shonda Rhimes
Executive Producer
2012-2014
Creator & Show Runner
Betsy Beers
Executive Producer
2012-2014
Judy Smith
Co-Executive Producer
2012-2014
Show Inspired by
Tom Verica
Co-Executive Producer
2012-2014
also as a series director
Jenna Bans
Co-Executive Producer
Consulting Producer
2012-2013
2013-2014
also as a series writer
Holden Chang
Associate Producer
2012-2014
credited in end credits
Scott Collins
Producer
2012-2014
also as a series writer
Roxann Dawson
Supervising Producer (Season 1)
2012
also as a season 1 director
Noah Evslin
Co-Producer
2013-2014
credited in end credits
Mark Fish
Co-Executive Producer
2012-2014
also as a series writer
Merri D. Howard
Produced by
2012-2014
Heather Mitchell
Co-Producer (Season 1)
Producer (Season 2)
Supervising Producer
2012
2012-2013
2013-2014
also as a series writer
Peter Noah
Consulting Producer
2012-2014
also as a series writer
Mark Wilding
Executive Producer
2012-2014
also as a series writer
Chris Van Dusen
Co-Producer (Season 1)
Story Editor(Season 3)
2012
2013-2014
also as a series writer
Other Production Credits
Edit
References
Edit