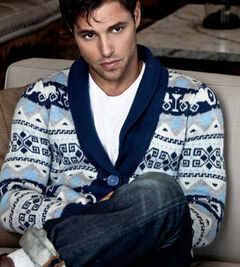 Sam Page - born November 5, 1976 in Whitefish Bay, Wisconsin - is an American television and film actor, who portrayed Congressman Will Caldwell in the second season episode Boom Goes the Dynamite of ABC's Scandal.
Background & Personal Life
Edit
Sam was born in Milwaukee, Wisconsin as Samuel L. Elliott; but he credits himself onscreen as "Sam Page."
In high school, Whitefish Bay High School, he captained their football and baseball teams. He began attending Princeton University where he earned a B.A. in Ecology and Evolutionary Biology. For his senior thesis Sam wrote about mating habits of a female mosquitofish; the work was published in a science journal. After graduating in 1998 he went on to pursue his career in acting, despite the fact he had no acting experience. "I came home and told my mom and dad I was moving to Hollywood to become an actor. [1]
He started acting in Los Angeles but moved to New York in 2002 when he was cast on the daytime soap opera All My Children.
In 2002, People Magazine named Sam to their "Most Eligible Bachelors" list. Along with numerous other celebrities, Sam appeared in will.i.am's video Yes We Can to support Barack Obama's presidential bid in 2008. And three years later he was on the cover of the February 2011 issue of J. Crew's clothing catalogue and magazine.
Career Background
Edit
After graduating from Princeton Sam went on to become a series regular on CBS's Shark as Casey Woodland. He currently has a recurring role on USA Networks' hit sports drama Necessary Roughness as the love interest of the leading character Dr. Dani Santino (played by Callie Thorne).
Sam has had many recurring roles throughout his career beginning with two 3-episode arc roles on The WB. He played Stone Cold Fox on the high school drama Popular in 1999 and playing Brad Landers on the family drama 7th Heaven in 2000.
He got his breakout role in 2002 when he was cast as Trey Kenyon for the daytime soap opera All My Children where he played that character for a year. He had more recurring appearances but it wasn't until 2010 when he received what has probably been the best opportunity in his career thus far, the chance to act opposite Marcia Cross and Steven Culp on ABC's Desperate Housewives in a multi-episode arc playing Sam Allen, the son of Rex Van de Kamp (Culp) and stepson of Bree Hodge (Cross). His career continued to flourish as he moved on to having more and more recurring roles in such television series as Gossip Girl playing Colin Forrester (2010), playing Greg Harris on Mad Men throughout 2008 to 2012. And most recently playing the young savvy lawyer Craig Tebbe on the breakout ABC Family drama Switched at Birth in 2012.
Sam has also made many guest appearances on television series over the past 10 years. He's appeared on the two of CBS CSI spin-off's Miami (2005) and NY (2009). Other credits include: Melrose Place (2009), The Event (2010), Castle (2010), Lie to Me (2011), The Client List (2012) and Last Resort (2013).
Though he is mostly know for his television appearances he has made his way to the big screen, credits including: Slave and Falling Up both in 2009; and short films Valediction, Starsucker and A Proper Send-Off all in 20011. Sam has also been in a few TV Movies, including the Lifetime Channel's movie, In the Dark (2013); others include Annie Claus is Coming to Town (2011), Finish Line (2008) and Filthy Gorgeous (2006).
In the beginning of his career Sam was credited with a few different spellings of his name as well as one completely different name. They include: Samuel Page, Samuel L. Elliott and Nathan Watkins. Also in his roles on Necessary Roughness and Desperate Housewives he played a character named "Sam".
External Links
Edit
References
Edit
Ad blocker interference detected!
Wikia is a free-to-use site that makes money from advertising. We have a modified experience for viewers using ad blockers

Wikia is not accessible if you've made further modifications. Remove the custom ad blocker rule(s) and the page will load as expected.