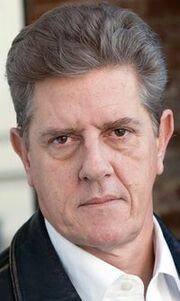 Sam McMurray - born April 15, 1952 in New York City, New York, USA - is an American actor who portrays US Attorney Pat Wexler in ABC's Scandal.
Personal Background
Edit
He is the stepson of famous soap opera actress Lesley Woods and the son of Richard McMurray and Jane Hoffman.
Career Background
Edit
Sam is commonly known for playing voice characters on animated TV series.
TV Recurring Roles
Edit
TV Guest Roles
Edit
Film Roles
Edit
Ronnie in Meet Monica Velour (2010)
Agent Stamek in Stealing Sinatra (2003)
Chief Troutman in Lucky Numbers (2000)
Lester Leeman in Drop Dead Gorgeous (1999)
Tricky in The Mod Squad (1999)
Federal Prosecutor in Dear God (1996)
Alex in Getting Even with Dad (1994)
Don Buckman in Addams Family Values (1993)
Morris Frost in L.A. Story (1991)
Bill in Christmas Vacation (1989)
Glen in Raising Arizona (1987)
Ranked #3 on Tropopkin's Top 25 Most Intriguing People [Issue #100]
He was the first person to guest star on the TV series The Simpsons (1989), which holds the record for Most Guest Stars Featured in a TV Series (as of 2011).
In 1997 was nominated for a Daytime Emmy for Outstanding Performer in a Children's Special for ABC Afterschool Special.
Has appeared opposite fellow Scandal co-star Brenda Song in The Suite Life of Zack & Cody in 2007.
References
Edit