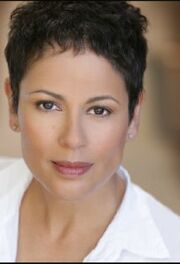 Roxann Dawson - born September 11, 1958 in Los Angeles, California - is an American actress, producer and director, directing occasional episodes for ABC's Scandal.
Background & Personal Life
Edit
She graduated from UC Berkley with a degree in Theatre Arts in 1980. Soon after she landed her first role as a dancer in the Broadway production of "A Chorus Line." During her acting career, she performed in numerous plays including "The Early Girl," "V&V Only," "The Tempest," "Tropicana," "Six Characters in Search of an Author," "Accelerando," "Rose Tattoo," "Daughters," among others.
Roxann resides in LA with her husband, Casting Director, Eric Dawson; they married in May of 1994. Together they have two daughters; Emma Rose Dawson, born January 16, 1998 and Mia Meicai Dawson, born October 31, 1999 who was adopted in July 2000. She was previously married to actor Casey Biggs.
She was born as Roxann Caballero and raised by parents Richard and Rosalie Caballero.
Career Background
Edit
Roxann is best known for her role as Lt. B'Elanna Torres on Star Trek: Voyager which she portrayed from 1995-2001. For her work on the show she was nominated for an ALMA Award for three years in a row (1998-2000); and in 2001 was given an ALMA Special Achievement Award.
She works as a writer as well as a director. She made her directorial debut on Star Trek: Voyager (1995) and continued directing on shows like Any Day Now (1998), Star Trek: Enterprise (2001) and Charmed (1998). She does also practice writing -- a Trilogy called "Tenebrea" was co-written by her.
Roxann has served as a producer not only for Scandal, but on Crossing Jordan and Cold Case as well.
Acting Credits
Edit
TV Guest Roles
Edit
TV Recurring Roles
Edit
TV Movies
Edit
| Title | Character | Year |
| --- | --- | --- |
| Pointman | Rosie Alvarez | 1994 |
| Mortal Sins | Maria Croce | 1992 |
| Dirty Work | Lanie | 1992 |
| N.Y.P.D. Mounted | Lt. Torres | 1992 |
| Broken Angel | Shakti | 1988 |
Directing Credits
Edit
Scandal Directing Credits
Edit
References
Edit
Ad blocker interference detected!
Wikia is a free-to-use site that makes money from advertising. We have a modified experience for viewers using ad blockers

Wikia is not accessible if you've made further modifications. Remove the custom ad blocker rule(s) and the page will load as expected.