The Presidential Election 2016 is a main storyline from Season Five and Season Six of Scandal
About
Former First Lady and U.S. Senator Mellie Grant became the Republican Party's presidential nominee on after defeating Vice President Susan Ross and lobbyist Hollis Doyle in the Republican primary elections. If elected, Grant will be the first female president. Pennsylvania governor Francisco Vargas became the Democratic Party's presidential nominee after defeating U.S. Senator Edison Davis of Florida.
History
President Fitz Grant is about to finish his final year of his second term as Presidents of the United States of America and the race to find his successor is underway. This race is the perfect opportunity for America to have their first female President; Mellie Grant and Susan Ross are both fighting for their chance in the Oval office.
Season Five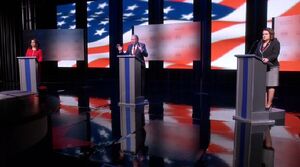 The politically correct Mellie Grant is poised, the politically incorrect Hollis Doyle is a crowd-pleaser and the politically inexperienced Susan Ross is a deer in headlights. Fitz calls his veep during a commercial break to let her know that she only needs one good punch to turn things around. Not only does she deliver a punch but her story about how her military husband John Latner was killed in Afghanistan is a total knockout, she is the new undisputed heavyweight debate Champion of the World. Francisco Vargas doesn't want to use the rumours about Edison Davis being addicted to painkillers, Nevertheless the news breaks and Edison orders Papa Pope to pull in the reins on his daughter. "The Miseducation of Susan Ross"
Jake Ballard is announced as Mellie's running mate and David is told that he won't be Vice President to Francisco. Olivia bursts into her father's home declaring that Jake is about to be announced as Mellie Grant's running mate. She wants the future veep candidate to exit the premises with her. Papa Pope holds a gun to Jake's head. It's a standoff, a showdown. Olivia takes Jake by the hand. Jake doesn't want to be vice president, he'd rather move into a quaint little house with Olivia and he dares her to be normal. Olivia doesn't want to live an unimpressive life, Jake gets the picture, he's gone from being under Command's thumb to being under his daughter's. Jake takes the stage with Mellie to cheers from the crowd. "That's My Girl"
Season Six
Main article: Presidential Election 2018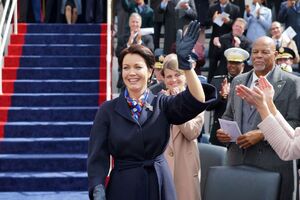 During the night of the 2016 Election, the state of California was called for Governor Francisco Vargas, Senator Mellie Grant conceded to President - Elect Vargas, however during his Victory Speech in Fairmount Park, Philadelphia, he was assassinated. President Grant announced the death of President - Elect Vargas and supported his the Vice Presidential nominee to become the President - Elect of the United States. However the investigation into the assassination of Francisco Vargas uncovered that President - Elect Cyrus Beene was involved he was then sent to the Maryland Penitentiary. Furthermore the the Electoral College will vote for the only Presidential Nominee left in the race, Senator Mellie Grant on December 19th when the electors will meet.
Presidential Primary Candidates
General Election Candidates
Campaign Posters
Gallery
Candidate Interviews
Debates
Videos