Olivia Carolyn Pope is a crisis manager running the consulting firm Olivia Pope & Associates, dedicated to fixing problems and crises; protecting and guarding public images and reputations; and solving certain crimes in her clients' interest.
History
Olivia seems to have been mentored both by Cyrus Beene and Verna Thornton, molding her into who she is today.
She worked as a media relations consultant on Fitz's campaign. Her professional relationship with President Fitzgerald Grant III led to an extramarital affair, which she had intended to end after Fitz' inauguration into office. After he won the election, she became his Assistant for Communications, also known as the The White House Director of Communications. They continue their relationship, but just as they reveal their feelings for each other, Olivia realizes that Mellie, Fitz's wife, is aware of the affair. Olivia then resigns from the White House and forms Olivia Pope & Associates. (Happy Birthday, Mr. President)
Along with Cyrus, Mellie, Verna, and Hollis Doyle, Olivia was part of the election-rigging conspiracy Defiance, which stole the election and put Fitz into the White House. (Beltway Unbuckled)
Olivia and Verna, with Huck's help, saved Lindsay Dwyer after Hollis Doyle used Becky Flynn to frame Lindsay for the bombing of Cytron, which killed Lindsay's boyfriend and Cytron employee Jesse Tyler and six of his co-workers. (White Hat's Off, Happy Birthday, Mr. President & Truth or Consequences)
Relationships
Olivia first met Fitz Grant when
Cyrus
called her in to help with the campaign. Their meeting is shown in the flashbacks of the season one episode 
The Trail
. Fitz was hesitant to bring Olivia on to his campaign, but ultimately asked her to stay.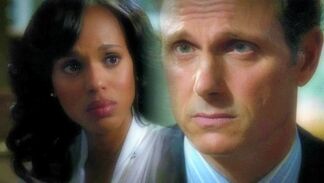 Not long after she joins the campaign, they begin to develop feelings for each other. As much as Olivia wants to be with Fitz, she knows an affair could mean political suicide for him; yet Fitz is persistent. After he's elected —as shown in
Happy Birthday, Mr. President
 –  Fitz tells Olivia that he loves her. The sexual tension between them continues, even after she leaves the
Category:The White House
once
Mellie
 discovers the affair. In
Hunting Season
, Olivia begs Fitz to let her go, which is echoed in the episode 
Beltway Unbuckled
 when Fitz tells Olivia, "I'm letting you go." She moves on, more or less, but is unable to fully let go of their relationship. 
For more on their relationship go to Olivia Pope & Fitz Grant Relationship.
She was Senator Edison Davis' girlfriend and ex-fiancé; they lived together in Georgetown from 2002 to 2006. They began seeing each other again in the episode Spies Like Us. Their relationship grows rocky in One For the Dog as she refuses to open up to Edison about her past relationships. Olivia wants to keep her past romantic and sexual relationship with Pres. Fitzgerald Grant III from him, but Edison is persistent, growing increasingly frustrated with the emotional stonewalling. Edison proposed to Olivia for the second time in A Criminal, A Whore, An Idiot, and A Liar, but Olivia finally turned down the proposal in Nobody Like Babies, realizing she wants a difficult, rather than a normal, love. 
Cyrus mentored Olivia and is also her best friend. He taught her a lot of what she knows. Olivia is the godmother of him amd his husband's duaghter, Ella.In Beltway Unbuckled Olivia uses what Cyrus taught her against him to help her client.
Huck is one of Olivia's associates at Pope & Associates. In "Seven Fifty-two" we learn that Olivia meets Huck when she gives him change at the metro. Huck is dear to Olivia because they're two of a kind, she says they live on the dark side of the moon. Huck is a skilled ex-assassin whose tech skills and other specialized government training comes in hady when Olivia needs to get down to the bottom of something.
Verna Thornton is another one of Olivia's mentor. So far what we know Verna has told her is to never ever turn off your cell phone. Olivia is there for Verna to help not only professionally but personally as well. Verna is one of Olivia's clients. Olivia is helping her keep her illness - cancer - from the public and Olivia comes to sit with Verna during her chemotherapy treatments. Their relationship ended badly; whilst Verna was on her death bed Olivia realized that she ordered the assassination of President Fitz Grant.
Olivia helped Harrison out when he gets arrested; she then takes him under her wing and asks him to join Category:Olivia Pope & Associates once she forms the crisis management firm.
Olivia and Abby have been friends since college. When Abby was stuck in an abusive marriage Olivia rescued her with the help of a tire iron. Olivia brings her onto her crisis management firm after she leaves the Category:The White House. Abby questions all of Olivia's choices and why she has so many secrets, but none the less she always has her back.
With Verna Thornton and Huck's assistance Olivia rescues Lindsay Dwyer from being falsely framed for the murder of her boyfriend and his six co-workers. Two years after Huck sets Lindsay up with a new identity, Quinn Perkins, and moves her to D.C. Olivia hires Quinn to mentor her and keep her close. In the season two premiere, White Hat's Off, Olivia helps Quinn get off of the murder charges with Verna's persuasion to the presiding judge. In One For the Dog Quinn asks Olivia to tell her the truth about why she helped her, Olivia agrees to talk to her, until her phone rings... "saved by the bell!"
Olivia considers herself a friend of David's; although he did consider them friends, but in a complicated way, he told her they are no longer friends after her friendly threat in The Other Woman. Their friendship remains while David investigates the Cytron bombing both in and out of work. David learns more and more that he shouldn't know ultimately ending his career as an Assistant U.S. Attorney.(Nobody Likes Babies) Ten months after Olivia and her gladiators get David fired he finds himself in need of a help... from a fixer. So he calls up his old friend Olivia to help him after he wakes up in bed with a dead woman next to him.(Whiskey Tango Foxtrot) Since then he has been an on-and-off again client of Category:Olivia Pope & Associates, setting himself up to the newest "Gladiator in a Suit" (Molly, You in Danger, Girl)
Olivia met Jake ten months after the death of Verna Thornton. Their relationship sparks up fast. Jake is different than any of the other men she's been with... but is he who she thinks he is? Jake and Olivia take their relationship to the next level, they sleep together, happy and calm Olivia goes to get water and turns on the TV, but what she sees shocks her, resulting with her ending up in the hospital. (Molly, You in Danger, Girl)
Appearances
Season One
Season Two
Trivia
Olivia paces in circles when she is troubled by something she considers a serious problem. She does it in perfect circles when she's really worried
The address for Olivia Pope and Associates is 1970 K. Street, Washington, D.C., 20006. 
Olivia was on the swim team in high school.
The character of Olivia Pope was originally named Olivia Price.
Gallery