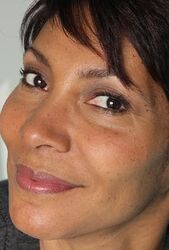 Nicole Rubio or Nicole Cummins-Rubio is a director on ABC's Scandal.
Nicole Rubio is an American actress, script supervisor and television director.
Nicole Rubio first appeared in a supporting role in the 1990 action comedy Another 48 Hours. She also appeared in The Brothers in 2007 and in two episodes of the US dramedy Monk. Nicole Rubio is known for her work on Grey's Anatomy (2005), Star Trek (2009) and Training Day (2001).
Scandal Directing Credits
Edit
→ See and enjoy 6 pictures of Nicole Rubio at Images of Nicole Rubio.
External Links
Edit
Click on any or all of the links below to view more information about Nicole Rubio and a full filmography.
Ad blocker interference detected!
Wikia is a free-to-use site that makes money from advertising. We have a modified experience for viewers using ad blockers

Wikia is not accessible if you've made further modifications. Remove the custom ad blocker rule(s) and the page will load as expected.