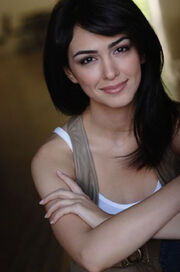 Nazanin Boniadi - born May 22, 1982 in Tehran, Iran - is an Iranian-British actress currently living and working in the United States who made her debut appearance as Adnan Salif in the second half of the third season of ABC's Scandal.
Click to view Nazanin Boniadi's IMDb bio - view
Click to view Nazanin Boniadi's Wikipedia bio - view
Ad blocker interference detected!
Wikia is a free-to-use site that makes money from advertising. We have a modified experience for viewers using ad blockers

Wikia is not accessible if you've made further modifications. Remove the custom ad blocker rule(s) and the page will load as expected.