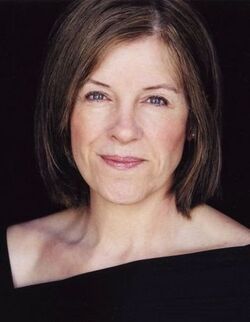 Mimi Kennedy - born September 25, 1948 in Rochester, New York - is an American actress, author and activist, who portrayed Sharon Marquette in the first season episode Dirty Little Secrets on ABC's Scandal.
Background & Personal Life
Edit
She was born Mary Claire Kennedy in Rochester, the daughter of Nancy Helen and Daniel Gerald Kennedy. She got her start in theatre with the Rochester Community Players, appearing in Agatha Christie's "Spider Web" in October 1960 when she was 12 years old. Mimi was a 1966 graduate of Our Lady of Mercy High School. In the 1970s she was in a musical production called Rhinegold, featuring songs by her friend Jim Steinman.
Mimi and her husband Larry Dilg, met while attending college; they married on May 27, 1978. She went to the sister college of his; where they were both matched up in a computer dating service. They have two children, Cisco and Molly.
Career Background
Edit
Mimi began her career in theatre opposite famed TV comedian Sid Caesar. Her theatre credits include her work as Jan in both the national tour and the original Broadway production of Grease.
She has a long list of television and film credits but her most notable are3 Girls 3 (1977), Homefront (1991), which she earned a nomination for an American Television Award for Best Supporting Actress. Mimi has appeared in a number of TV movies and TV mini-series including; Robert Kennedy & His Times (1985), and some of the "Walt Disney's Wonderful World of Color". Some of her feature film credits include; Death Becomes Her (1992), Erin Brockovich (2000) and Midnight in Paris (2011).
References
Edit