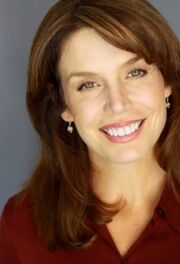 Megan Gallagher - born February 6, 1960 in Reading, Pennsylvania - is an American television, film and theatre actress, who portrayed Stacy Keating in the season one episode Dirty Little Secrets on ABC's Scandal.
Background & Personal Life
Edit
She was born in Reading but raised in Wyomissing, Pennsylvania. Her mother, Aileen Gallagher, was a model. She's wanted to act since she was five years old. She later took drama lessons when she was in high school.
Megan trained at the Julliard School where her classmates in 1982 included Penny Johnson of ABC's Castle's, Executive Producer of SyFy's Warehouse 13, Jack Kenny, ABC's Body of Proof, Lorraine Toussaint and fellow actor Jack Stehlin. While attending Julliard she appeared in the Broadway cast of "A Few Good Men" where she won two theatre awards; Theatre World and Outer Critics Circle Award for Outstanding Debut) for her performance. After graduating from Julliard with a Bachelor's degree, she began to work with John Houseman's Acting Company and soon had screen roles in TV movies and mini-series but was so discouraged by trying to make it in L.A. that she nearly gave up to go to law school.
She is married to fellow actor Jeff Yagher; they have two children. Megan has three brothers and two sisters; she has a basset hound named Henry and two cats. She is known to stay away from red meat.
Career Background
Edit
Megan's best-known roles are probably Garry Shandling's wife, Jeannie Sanders, on the HBO comedy The Larry Sanders Show from 1992-1995, and as Catherine Black, wife of Frank Black (Lance Henriksen) on the TV series Millennium from 1996-1999.
Her TV credits include recurring roles on Hill Street Blues as Officer Tina Russo from 1986-1987, The Slap Maxwell Story as Judy Ralston from 1987-1988, China Beach as Wayloo Marie Holmes from 1988-1989, Pacific Station as Detective Sandy Calloway from 1991-1992, Nowhere Man as Alyson Veil from 1995-1996, Life as We Know It as Leslie Miller from 2004-2005 and 24 as Jillian Wallace (2007).
Megan's television guest appearances include Law & Order (1991), Blossom (1991), Picket Fences (1993), ER (1996), The Outer Limits (1999), Star Trek: Voyager (2000), Family Law (2001), Without a Trace (2002), Boston Legal (2006), 7th Heaven (2006), Crossing Jordan (2007), Numb3rs (2007), The Mentalist (2010) and Monday Mornings (2013).
Her film credits include Van Wilder (2002), Blind Obsession (2002), Mr. & Mrs. Smith (2005) and her TV Movie credits include Sins of the Past (1984), …And Then She Was Gone (1991), Trade-Off (1995), Abducted: A Father's Love (1996), Like Father, Like Santa (1998), Lethal Vows (1999), A Time to Remember (2003), Homeland Security (2004) and Best Friends (2005).
References
Edit