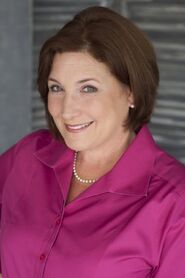 Maura Soden - born December 26, 1955 in Richmond, Virginia - is an American actor and producer, who portrayed Dr. Brown in the second season premiere episode White Hat's Off.
She has appeared in several TV shows in her 25 years of acting. She is married to Michael Loftus, a director and cinematographer. They have one daughter, Callahan Rose.
Maura has worked as a casting director, writer, stylist, actress and producer and she is a member of SAG, AFTRA, Actor's Equity, Women in Film and National Academy of Television Arts and Sciences. She spent time working in each show business genre from sitcoms to reality shows to commercials.
External Links
Edit
Click on any or all of the links below to view more information about Maura Soden and a full filmography.
Ad blocker interference detected!
Wikia is a free-to-use site that makes money from advertising. We have a modified experience for viewers using ad blockers

Wikia is not accessible if you've made further modifications. Remove the custom ad blocker rule(s) and the page will load as expected.