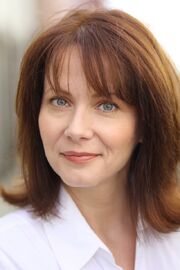 Mary Ostrow - born July 31, 1962 in Boston, Massachusetts - is an American actress, who portrayed Inez Parks in the first season episode Dirty Little Secrets on ABC's Scandal.
Career Background
Edit
She has made guest appearances on several television series including: Leverage (2009), Dexter (2007), Boston Legal (2007), Criminal Minds (2007), Without a Trace (2006), 7th Heaven (2006), Will & Grace (2005), Malcolm in the Middle (2002), The West Wing (2001), Ally McBeal (2001), The X-Files (2000), Frasier (2000), Profiler (1999), Mad About You (1998) and The Young and the Restless (1996).
Mary's only had one recurring role, appearing on daytime television soap opera Passions (2004).
She has appeared in a couple of TV movies, such as Operating Instructions (2009) and The Rat Pack (1998)
Mary's zodiac sign in Leo.
References
Edit