Announcement
The Scandal Wiki navigation has been changed.

Overview
From the creator and executive producers of Grey's Anatomy and Private Practice - Shonda Rhimes & Betsy Beers - comes a drama revolving around the life and work of a professional crisis manager and her dysfunctional staff; inspired by real life DC Crisis Manager Judy Smith.
Olivia Pope (Kerry Washington) is a former Presidential media relations consultant who has dedicated her life to protecting and guarding the public images of America's high society elite. Pope opened her own consulting firm after leaving the White House, hoping to start a new chapter in her life not only professionally, but personally. However, no matter how hard she tries, cutting ties with her past seems to be easier said than done. As for her new staff, who specialize in fixing the lives of other people, the issues in their own lives turn out to be more challenging to fix than those of their clients.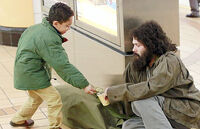 Through flashbacks from fourteen and five years ago information about Huck's past is revealed... Did he have a life before he joined the CIA? When did he join the CIA? When and how did he first meet Charlie? Who was he before joining the CIA? Did he have a family? How did he meet Olivia?
Fitz and Olivia have an emotionally charged conversation unaware that they are being watched. Cyrus finally meets Jake, and Hal informs Mellie about Fitz's whereabouts.
Meanwhile, the gladiators - Harrison, Abby & Quinn - reveal information about themselves to Huck while he's in a trance repeating "752" over-and-over again-and-again. Who can break him from his trance... Olivia, Quinn or could it be Charlie???
And then there's the big question... what does "Seven Fifty-Two" mean?
Ad blocker interference detected!
Wikia is a free-to-use site that makes money from advertising. We have a modified experience for viewers using ad blockers

Wikia is not accessible if you've made further modifications. Remove the custom ad blocker rule(s) and the page will load as expected.