Ad blocker interference detected!
Wikia is a free-to-use site that makes money from advertising. We have a modified experience for viewers using ad blockers

Wikia is not accessible if you've made further modifications. Remove the custom ad blocker rule(s) and the page will load as expected.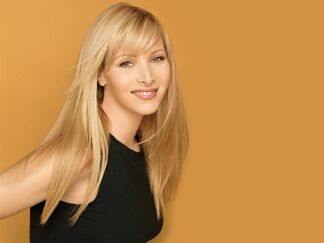 Lisa Valerie Kudrow - born July 30, 1963 in Encino, California - is an American actress, writer, comedian and producer who portrays Congresswoman Josephine Marcus in the third season of ABC's Scandal. She is best known for her long-time role on the NBC hit comedy series Friends.
Personal Background
Edit
She is the daughter of Nedra Stern, a travel agent, and Dr. Lee N. Kudrow, a headache specialist and physician. She has an older sister, Helene Marla (born 1960), and an older brother, David B. Kudrow (born 1957), a neurologist in Santa Monica. Lisa was raised in a middle-class Jewish family; her ancestors emigrated from Belarus and lived in the village of Ilya, in Minsk area; sadly her great-grandmother was murdered in the Holocaust.
Lisa attended Portola Middle School in Tarzana, California. She graduated from Taft High School in Woodland Hills, Los Angeles. With the intentions to follow in her father's footsteps to research headaches she received her B.S. in Psychology from Vassar College. She worked with her father for eight years while breaking into acting. She got inspired to perform by one of her brother's friends, comedian Jon Lovitz. And so her acting and comedy career began.
In 1995 on May 27, Lisa married Michael Stern, a French advertising executive. They welcomed their son, Julian Murray, into the world on May 7, 1998. Her pregnancy was written into Friends for seasons 4 and 5. Her character Phoebe was a surrogate mother for her brother and his wife's triplets.
Career Background
Edit
Lisa has received worldwide recognition for her 10-year-run as Phoebe Buffay on NBC's sitcom Friends. She received many accolades for the performance of her, including an Emmy Award and two Screen Actors Guild Awards.
After the end of a decade on the hit show she went on to produce, write and star in the short-lived HBO series, The Comeback. She is currently starring, writing and producing on the Showtime series Web Therapy which is in it's third season. Her writing and producing partner for the show is Scandal's supporting cast member Dan Bucatinsky (plays James Novak).
Along with television acting, producing and writing she has appeared in several films; including Analyze This (1999), Hanging Up (2000), Dr. Dolittle 2 (2001), Analyze That (2002), P.S. I Love You (2007), and Easy A (2010).
TV Recurring Roles
Edit
TV Guest Roles
Edit
Filmography
Edit
Lisa is most notably known in the film community for her role as Michelle Weinberger in Romy and Michelle's High School Reunion (1997).
| Title | Character | Year | Type |
| --- | --- | --- | --- |
| Easy A | Mrs. Griffith | 2010 | Motion Picture |
| The Other Woman | Carolyne | 2009 | Motion Picture |
| Bandslam | Karen | 2009 | Motion Picture |
| P.S. I Love You | Denise | 2007 | Motion Picture |
| Wonderland | Sharon Holmes | 2003 | Motion Picture |
| Analyze That | Laura Sobel | 2002 | Motion Picture |
| Dr. Dolittle 2 | Ava (voice) | 2001 | Motion Picture |
| Lucky Numbers | Crystal | 2000 | Motion Picture |
| Hanging Up | Maddy Mozell | 2000 | Motion Picture |
| Analyze This | Laura McNamara Sobel | 1999 | Motion Picture |
| The Opposite of Sex | Lucia DeLury | 1998 | Motion Picture |
| Clockwatchers | Paula | 1997 | Motion Picture |
| Romy and Michelle's High School Reunion | Michelle Weinberger | 1997 | Motion Picture |
| The Crazysitter | Adrian Wexler-Jones | 1995 | Indie |
| Murder in High Places | Miss Stitch | 1991 | TV Movie |
| Close Encounters | Valley Girl | 1990 | TV Movie |
Production Credits
Edit
Writing & Story Credits
Edit
Producing Credits
Edit
In 1979, at 16-years-old, she had a rhinoplasty surgery to reduce the size of her nose.
Chosen by "People" magazine as one of the 50 Most Beautiful People in the Word for 1997.
On the day she gave birth to her son, Julian, NBC aired the season finale of Friends - "The One With Ross' Wedding Parts 1 & 2." She sent these episodes as her Emmy tape submission and subsequently won the Best Supporting Actress in a Comedy Emmy.
Lisa was the tallest female cast member of Friends.
She and Jennifer Aniston both auditioned for regular cast member spots on Saturday Night Live prior to their success on Friends.
Teri Garr has played her mother twice: in the film Kabluey (2007) and on Friends.
Out of the six Friends cast members she was the first to win an Emmy Award for her performance; she was also the nominated for an Emmy Award more times than any of her other cast members.
Like her character on Friends she is a vegetarian.
Awards & Nominations
Edit
Awards (Won)
Edit
Emmy Award – 1998: Outstanding Supporting Actress in a Comedy Series for Friends (1994)
Screen Actors Guild Awards – 2000: Outstanding Performance by a Female Actor in a Comedy Series for Friends (1994)
Screen Actors Guild Awards – 1996: Outstanding Performance by an Ensemble in a Comedy Series for Friends (1994)
Shared with: Jennifer Aniston, Courtney Cox, Matt LeBlanc, Matthew Perry & David Schwimmer
TV Guide Awards – 2000: Editor's Choice for Friends (1994)
Shared with: Jennifer Aniston, Courtney Cox, Matt LeBlanc, Matthew Perry & David Schwimmer and Jane Sibbett & John Christopher Allen
Satellite Awards – 2001: Best Performance by an Actress in a Series, Comedy or Musical Friends (1994)
American Comedy Awards – 2000: Funniest Supporting Female Performer in a TV Series for Friends (1994)
Teen Choice Award – 2000: Film – Choice Hissy Fit for Hanging Up (2000)
Grace Allen Awards – 2006: Outstanding Female Lead – Comedy Series for The Comeback (2005)
Blockbuster Entertainment Awards – 2000: Favorite Supporting Actress - Comedy Analyze This (1999)
Chlotrudis Awards – 1999: Best Supporting Actress for The Opposite Sex (1998)
New York Film Critics Circle Awards – 1998: Best Supporting Actress for The Opposite Sex (1998)
Nominations:
Emmy Award – 2012: Outstanding Reality Program for Who Do You Think You Are? (2010)
Shared with: Alex Graham (executive producer), Jennifer O'Connell (executive producer), Dan Bucatinsky (executive producer), Al Edgington (executive producer), Lisa Bohacek (supervising producer), Kate Richter Green (supervising producer) and Chuck LaBella (producer)
Emmy Award – 2006: Outstanding Lead Actress in a Comedy Series for The Comeback (2005)
Emmy Award – 2001: Outstanding Supporting Actress in a Comedy Series for Friends (1994)
Emmy Award – 2000: Outstanding Supporting Actress in a Comedy Series for Friends (1994)
Emmy Award – 1999: Outstanding Supporting Actress in a Comedy Series for Friends (1994)
Emmy Award – 1997: Outstanding Supporting Actress in a Comedy Series for Friends (1994)
Emmy Award – 1995: Outstanding Supporting Actress in a Comedy Series for Friends (1994)
Golden Globe – 1996: Best Performance by an Actress in a Supporting Role in a Mini-Series or Motion Picture Made for TV; for Friends (1994)
Screen Actors Guild Awards – 2004: Outstanding Performance by a Female Actor in a Comedy Series for Friends (1994)
Screen Actors Guild Awards – 2004: Outstanding Performance by an Ensemble in a Comedy Series for Friends (1994)
Shared with: Jennifer Aniston, Courtney Cox, Matt LeBlanc, Matthew Perry & David Schwimmer
Screen Actors Guild Awards – 2003: Outstanding Performance by an Ensemble in a Comedy Series for Friends (1994)
Shared with: Jennifer Aniston, Courtney Cox, Matt LeBlanc, Matthew Perry & David Schwimmer
Screen Actors Guild Awards – 2002: Outstanding Performance by an Ensemble in a Comedy Series for Friends (1994)
Shared with: Jennifer Aniston, Courtney Cox, Matt LeBlanc, Matthew Perry & David Schwimmer
Screen Actors Guild Awards – 2001: Outstanding Performance by an Ensemble in a Comedy Series for Friends (1994)
Shared with: Jennifer Aniston, Courtney Cox, Matt LeBlanc, Matthew Perry & David Schwimmer
Screen Actors Guild Awards – 2000: Outstanding Performance by an Ensemble in a Comedy Series for Friends (1994)
Shared with: Jennifer Aniston, Courtney Cox, Matt LeBlanc, Matthew Perry & David Schwimmer
Screen Actors Guild Awards – 1999: Outstanding Performance by a Female Actor in a Comedy Series for Friends (1994)
Screen Actors Guild Awards – 1999: Outstanding Performance by an Ensemble in a Comedy Series for Friends (1994)
Shared with: Jennifer Aniston, Courtney Cox, Matt LeBlanc, Matthew Perry & David Schwimmer
Screen Actors Guild Awards – 1996: Outstanding Performance by a Female Actor in a Comedy Series for Friends (1994)
Screen Actors Guild Awards – 1995: Outstanding Performance by an Ensemble in a Comedy Series for Mad About You (1992)
Shared with: Helen Hunt, Leila Kenzie, Richard Kind, John Pankow, Anne Ramsey & Paul Reiser
TV Guide Awards – 2000: Favorite Actress in a Comedy for Friends (1994)
Satellite Awards – 2008: Best Actress in a Motion Picture, Comedy or Musical for Kabluey (2005)
Satellite Awards – 2006: Best Actress in a Series, Comedy or Musical The Comeback (2005)
Satellite Awards – 2002: Best Performance by an Actress in a Series, Comedy or Musical Friends (1994)
Satellite Awards – 1998: Best Performance by an Actress in a Motion Picture – Comedy or Musical Romy & Michelle's High School Reunion (1997)
American Comedy Awards – 2001: Funniest Supporting Female Performer in a TV Series for Friends (1994)
American Comedy Awards – 2000: Funniest Female Performer in a TV Special (Lead or Supporting) Network, Cable or Syndication for 1999 MTV Awards (1999)
American Comedy Awards – 1999: Funniest Supporting Female Performer in a TV Series for Friends (1994)
American Comedy Awards – 1999: Funniest Supporting Actress in a Motion Picture for The Opposite Sex (1998)
American Comedy Awards – 1996: Funniest Supporting Female Performer in a TV Series for Friends (1994)
Teen Choice Award – 2002: TV – Choice Actress, Comedy for Friends (1994)
Teen Choice Award – 1999: Film – Choice Hissy Fit for The Opposite Sex (1998)
Kids Choice Award – 2000: Favorite Television Friends for Friends (1994)
Shared with: Jennifer Aniston & Courtney Cox
Chicago Film Critics Association Awards – 1999: Best Supporting Actress for The Opposite Sex (1998)
Independent Spirit Awards – 1999: Best Supporting Female for The Opposite Sex (1998)
Online Film Critics Society Awards – 1999: Best Supporting Actress for The Opposite Sex (1998)
MTV Movie Awards – 1998: Best Dance Sequence for Romy and Michelle's High School Reunion (1997)
Shared with: Mira Sorvino & Alan Cumming
External Links
Edit