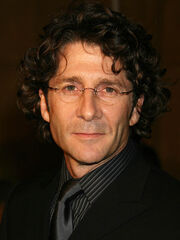 Leland Jones Orser - born August 6, 1960 in San Francisco, California - is an American television and film actor, who portrayed Sanders Black in the first season episode Enemy of the State on ABC's Scandal.
Background & Personal Life
Edit
Leland was and his first wife actress Roma Downey, eloped in a Roman Catholic ceremony in Rome, Italy. They were married from 1987 to 1989. Eleven years later, on October 14, 2000, he married his current wife, Jeanne Tripplehorn. Together they have a son, August Tripplehorn Orser, born at Cedars-Sinai Medical Center (Los Angeles), 7 pounds, 8 ounces; born May 23, 2002.
Career Background
Edit
Throughout his career a number of his roles have been portraying a deranged, psychotic and/or a degenerate character. He has appeared in a wide variety of films and television shows, including his recurring role as Chief of Surgery Dr. Lucien Dubenko on NBC's longest running medical drama, ER from 2004 to 2009. He made his television debut in 1991 on the show, Gabriel's Fire.
Leland has made guest appearances on numerous primetime television series, including: NCIS: LA (2011), Law & Order: Criminal Intent (2009), Shark (2007), Star Trek: Enterprise (2003), Law & Order: Special Victims Unit (2003), CSI: Crime Scene Investigation (2002), Star Trek: Voyager (1997), The X-Files (1994), Cheers (1992) and The Golden Girls (1991).
In 1999, he played the rather demanding main role of Dr. Arthur Zeller in The Outer Limits episode "Descent," a part seemingly tailored by writer Eric Saltzgaber for Leland's particular talents. He's also appeared in various parts in the Star Trek franchise.
Aside from his recurring role on ER his other recurring roles on primetime shows include: Touch as Dr. Linus, Revolution as John Sanborn, 24 as Martin Collier and Married with Children as Mark.
Lelands's has mostly had small parts in films, some of his credits include: Taken 2 (2012), Taken (2002), The Good German (2006), Twisted (2004), Runaway Jury (2003), Daredevil (2003), Pearl Harbor (2001), The Bone Collector (1999), Saving Private Ryan (1998), Alien: Resurrection (1997), Almost Perfect (1996), Independence Day (1996) and Se7en (1995)
He's also made a few appearances in made for TV Movies: Pleading Guilty (2010), Homeland Security (2004) and To Love, Honor and Deceive (1996).
External Links
Edit