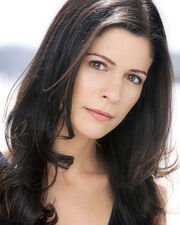 Lauren Stamile - born September 12, 1976 in Tulsa, Oklahoma - is an American film and television actress portrays Carla Steele in the third season of ABC's Scandal. She is best known for her role as Nurse Rose on Grey's Anatomy, Michelle Slater on the NBC Series Community and CIA Agent Dani Pearce on USA's Burn Notice.
Click to view Lauren Stamile's IMDb bio - view
Click to view Lauren Stamile's Wikipedia bio - view
Ad blocker interference detected!
Wikia is a free-to-use site that makes money from advertising. We have a modified experience for viewers using ad blockers

Wikia is not accessible if you've made further modifications. Remove the custom ad blocker rule(s) and the page will load as expected.