Ad blocker interference detected!
Wikia is a free-to-use site that makes money from advertising. We have a modified experience for viewers using ad blockers

Wikia is not accessible if you've made further modifications. Remove the custom ad blocker rule(s) and the page will load as expected.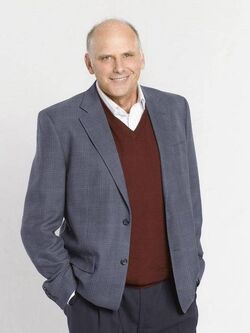 Kurt Fuller - born September 16, 1953 in San Francisco, CA - is an American character actor who portrayed Grayden Osborne in second season on ABC's Scandal. He has appeared in a number of television, film and stage projects.
Personal Background
Edit
Although he was born in San Francisco he was raised in the agricultural heartland of California's San Joaquin Valley. Kurt became passionate about acting while attending UC Berkley where he received a degree in English literature. After graduating he made the move to Los Angeles with everything he owned stuffed in the back of a Dodge Dart (including a king-sized foam rubber mattress). For the next ten years he was a realtor by day and a stage actor by night. Then, in 1986, he created the leading role of "Frank" in Steven Berkoff's explosively successful Kvetch, earning rave reviews on both coasts.
He is married author and actress Jessica Hendra on December 24, 1993; together they have two daughters, Julia born in 1998 and Charlotte born in 2001. Kurt graduated from Lincoln High School in Stockton, California in 1971.
Career Background
Edit
Kurt is best known for his work in the films Wayne's World (1992) with Mike Myers and Anger Management (2003) with Jack Nicholson and Adam Sandler, although others may know him best as the wacky sheriff who likes to pose in Speedos in Scary Movie (2000).
He was worked with some of Hollywood's best directors, including Paul Schrader, Ridley Scott, Wim Wenders, Taylor Hackford, Mike Newell, Harold Ramis, Brian De Palma and Ivan Reitman.
Kurt still returns to the stage occasionally. His most recent theatre work was "The Cosmonaut's Last Message" at the La Jolla Playhouse, and the highly acclaimed "The Waiting Room" at The Mark Taper Forum.
TV Recurring Roles
Edit
TV Guest Roles
Edit
Filmography
Edit
Motion Pictures & Indie Films
Edit
| Title | Character | Year | Type |
| --- | --- | --- | --- |
| The Frozen Ground | D.A. Pat Clives | 2013 | Motion Picture (completed) |
| The Silent Thief | Howard Henderson | 2012 | Independent Film |
| Midnight in Paris | John | 2011 | Motion Picture |
| The Prankster | Dean Pecarino | 2010 | Independent Film |
| BoyBand | Earl Roberts | 2010 | Independent Film |
| Major Movie Star | Cousin Barry | 2008 | Motion Picture |
| Superhero Movie | Bank Loan Officer | 2008 | Motion Picture |
| Mr. Woodcock | Councilman Luke | 2007 | Motion Picture |
| The Pursuit of Happiness | Walter Ribbon | 2006 | Motion Picture |
| The Civilization of Maxwell Bright | Berdette | 2005 | Independent Film |
| Don't Come Knocking | Mr. Daily | 2005 | Independent Film |
| Ray | Sam Clark | 2004 | Motion Picture |
| Anger Management | Frank Head | 2003 | Motion Picture |
| Auto Focus | Werner Klemperer | 2002 | Motion Picture |
| The New Guy | Mr. Udine | 2002 | Independent Film |
| Joshua | Father Pat Hayes | 2002 | Independent Film |
| Scary Movie | The Sheriff | 2003 | Motion Picture |
| Pushing Tin | Ed Clabes | 1999 | Motion Picture |
| The Fan | Bernie | 1996 | Motion Picture |
| French Exit | Stubin | 1995 | Independent Film |
| Stuart Saves His Family | Von Arks | 1995 | Independent Film |
| Calendar Girl | Arturo Gallo | 1993 | Motion Picture |
| Wayne's World | Russell Finley | 1992 | Motion Picture |
| Ghostbusters II | Jack Hardemeyer | 1989 | Motion Picture |
TV Movies & Short Films
Edit
| Title | Character | Year | Type |
| --- | --- | --- | --- |
| Mr. Payback | Bennett | 2013 | Short Film |
| Family Trap | Steve | 2012 | TV Movie |
| Love and Germophobia' | Dr. Robinson | 2012 | Short Film |
| Legally Mad | Lou Peable | 2010 | TV Movie |
| Arrow Heads | Wally | 2009 | Short Film |
| Van Wilder: Freshman Year | Dean Charles Reardon | 2009 | Video |
| I'm Not Gay | DA | 2005 | Short Film |
| Joint Custody | Unknown Character | 2005 | TV Movie |
| Live from Baghdad | Inky | 2002 | TV Movie |
| Porn 'n Chicken | Dean Widehead | 2002 | TV Movie |
| Angels in the Infield | Simon | 2000 | TV Movie |
| The Beach Boys: An American Family | Mike Love's Dad | 2000 | TV Movie |
| The Jack Bull | Conrad | 1999 | TV Movie |
| Principal Takes a Holiday | Principal Frank Hockenberry | 1998 | TV Movie |
| Twisted Desire | Detective Becker | 1996 | TV Movie |
| Virus | Dr. Williams | 1995 | TV Movie |
| Stormy Weathers | Ernie Horshack | 1992 | TV Movie |
External Links
Edit