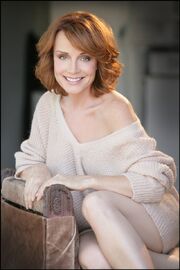 Kristin Carey is an American television and film actress, who portrayed Brooke Foster in the second season of ABC's Scandal.
Background & Personal Life
Kristin grew up in Santa Rosa, California, with aspirations of working in the movie and television business. At a young Kristin demonstrated a propensity for acting on the stage. She quickly became involved in her school productions. After graduating from the B.F.A. Theatre program at USC she began her career in film and television.
She has trained with acting teachers Ivana Chubbuck, Harvey Lembeck, Stephen Book and H. Richard Greene to name a few. She posses an excellent singing voice developed through her musical theatre work on stage.
Career Background
Kristin has earned rave reviews performing on stage in the plays "It's Just Sex," "Embraceable You," "Agency," "Evita," and the highly acclaimed original play "The War Room" which honored and raised money for the VFW.
She was chosen by the Farrelly Brothers to play a supporting role in their New Line Cinema produced film Hall Pass. She has played the lead role in a number of independent feature films. And her Sprint commercial, where she plays a studio executive, was produced and directed by the Farrelly Brothers. It has appeared in film theatres across the country.
Kristin has appeared in numerous guest appearances throughout her acting career, including: Castle (2013), It's Always Sunny in Philadelphia (2012), Criminal Minds (2010), Bones (2005), The West Wing (2005), Without a Trace (2004) and will be appearing in the upcoming ABC drama Mistresses.
Most of her film credits consist of short and independent films, as well as made for TV Movies; including some of the following: Double Negative (2010 | short), Wayward (2004 | short) and A Case for Life (1996 | TV Movie).
External Links
Ad blocker interference detected!
Wikia is a free-to-use site that makes money from advertising. We have a modified experience for viewers using ad blockers

Wikia is not accessible if you've made further modifications. Remove the custom ad blocker rule(s) and the page will load as expected.