Kerry Washington

Biographical Information
Date of Birth:
January 31, 1977
Birth Place:
The Bronx, New York City
Full Name:
Kerry Marisa Washington
Hair color:
Dark Brown
Spouse(s):

Nnamdi Asomugha (husband) (m. 6-24-13)

Children:

Isabelle Amarachi (daughter) (born 4-21-14)
Caleb Kelechi (son) (born 10-5-16)

Relatives:

Valerie Washington (mother)
Earl Washington (father)

Appearance Information
Portrays:
Olivia Pope
First appearance:
Sweet Baby
Kerry Marisa Washington - born January 31, 1977 in The Bronx, New York - is an American actress who portrays Olivia Pope in ABC's Scandal.
Background
The daughter of Valerie, a professor and educational consultant, and Earl Washington, a real estate broker.
Kerry graduated from the Spence School, in New York City in 1994. She later graduated Phi Beta Kappa from George Washington University in 1998 with a double major in Anthropology & Sociology. She also studied acting in New York City at Michael Howard Studios.
She is at times referred to as a political activist and was a supporter of Barack Obama's presidential candidacy. Washington has also spent time volunteering through the Adopt-a-Classroom program in New York as well as with Co-Op America, now known as Green America. Washington also spoke at the 2012 Democratic National Convention.
Career Background
Kerry is know for her roles as Ray Charles's wife, Della Bea Robinson, in the film Ray (2004), as Idi Amin's wife Kay in The Last King of Scotland, and as Alicia Masters in the live-action Fantastic Four films: Fantastic Four (2005) & Fantastic Four: Rise of the Silver Surfer. She starred opposite Jamie Foxx in the hit movie Django Unchained, which premiered in theaters on December 25, 2012. And in May 10, 2013 her latest movie was released, Peeples, with co-stars David Alan Grier and Craig Robinson.
Awards
Won:
2013 BET Awards - Best Actress
2014 NAACP Image Awards - Outstanding Actress in a Drama Series
2015 GLAAD - Vanguard Award
Gallery
Kerry Washington
→ See and enjoy 279 pictures of Kerry Washington at Images of Kerry Washington.
Social Media Set Photos
Videos
TV Shows and Movies
Interviews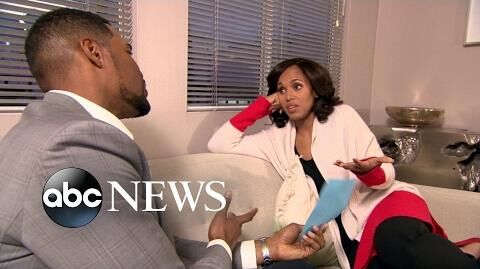 External Links
Ad blocker interference detected!
Wikia is a free-to-use site that makes money from advertising. We have a modified experience for viewers using ad blockers

Wikia is not accessible if you've made further modifications. Remove the custom ad blocker rule(s) and the page will load as expected.