Karen Grant is the daughter of President Fitzgerald Grant and President Mellie Grant.
About
The character of Karen Grant is a supporting character who made her first debut appearance in the last half of the third season. The character has been portrayed by two different actresses; in season three by Madeline Carroll and in season four by Mary Mouser. Prior to her on screen appearances she was "mentioned" a few times in Season Two and a few in Season Three.
History
Karen Grant is the middle child and only daughter of Fitz & Mellie Grant. Her older brother was Jerry Grant, Jr. and her younger brother is, Teddy Grant. For most of her life she has lived in boarding schools spending little time with her parents. On the rare occasion her and Jerry returned from boarding school, it was just for some public appearance as the First Family of the State of California or as The First Family of the United States.
When she returned home to meet her new brother; her and Jerry spent some time with their father, but he wasn't the best father at the time since he was drinking a lot. This was after Fitz made the discovery that he did not win his first election for President of the United States.
Season 3
While at boarding school she had a lead role in the schools performance of Our Town. Her and Jerry returned to The White House another time not long after the media got wind of Fitz's affair with Olivia. It was time for the First Family to do an interview after the shocking scandal involving Olivia. (Mama Said Knock You Out)
Karen and Jerry stuck around for a while to help with their father's Presidency reelection campaign, though not by choice. While helping with the campaign Jerry unexpectedly dies from Bacterial Meningitis. Causing her father to win the election.
Season 4
In Like Father, Like Daughter, Olivia is called in to help retrieve Karen after she escaped from her secret service and went to a warehouse party in DC. Which Olivia does by having Huck shut down the other party goers cell phones. Once they made it away, Karen's phone receives a video from a anonymous sender of her having sex with two unknown boys. Karen is then taken back to The White House where she is greeted by a disappointed Fitz, and they devise a plan to keep the video from going public. Since Karen doesn't fully remember what the boys she had sex with look like, Olivia and Quinn have her go through pictures from the party until she identifies one of them. Mellie also learns about the tape after she runs into Olivia in the West Wing.
After the situation is handled, despite the parents of one of the boys attempting to use the video as a blackmail to the White House, Mellie has a heart-to-heart conversation with her daughter over her recent behavior and how she was clearly acting out over losing her brother. Karen then returned to school.
Notes & Trivia
The character was portrayed by Madeline Carroll in season three.
She is now portrayed by Mary Mouser due to the recast.
She along with her brother Teddy are the First First Children to have both of their parents serve as President of the United States.
Gallery
Quote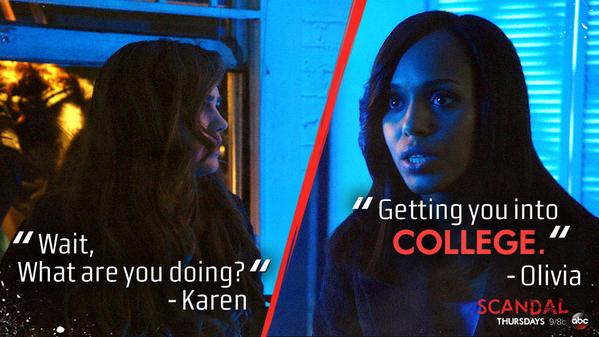 Videos
Appearances