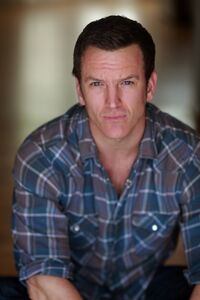 Josh Randall - born January 27, 1972 in Pacific Grove, California - is an American television and film actor, who portrayed James Elliot in the season four episode The State of the Union on ABC's Scandal.
Brief Background
Edit
He is best known for his role as Dr. Mike Burton on the NBC sitcom Ed and his recurring guest role as Jake on Scrubs in 2005. He's had other small recurring roles on Criminal Minds (2012), The Event (2010), Raising the Bar (2009) and Pushing Daisies (2008).
Josh's most notable guest role was playing N.T.S.B. Investigator Doug Wilson on CBS's long running hit crime drama CSI: Crime Scene Investigation in 2012. Other guest roles include: NCIS (2014), Masters of Sex (2014), Major Crimes (2013), Drop Dead Diva (2013), Castle (2012), Law & Order:Special Victims Unit (2012), Grimm (2012), Grey's Anatomy (2011), Private Practice (2007), and Lost (2005).
He was married to Canadian actress Claire Rankin from 2000 to 2011.
External Links
Edit
Click on the link below to view more information about Josh Randall including a full filmography.
Ad blocker interference detected!
Wikia is a free-to-use site that makes money from advertising. We have a modified experience for viewers using ad blockers

Wikia is not accessible if you've made further modifications. Remove the custom ad blocker rule(s) and the page will load as expected.