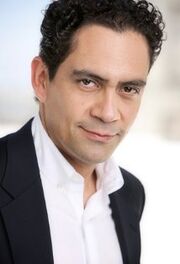 José Zúniga - born in Honduras - is an American television and film actor, who portrayed General Benicio Florez in the first season episode Enemy of the State on ABC's Scandal.
Career Background
Edit
He is best known for his minor role in the hit Sci-Fi movie Twilight.
José has made guest appearances on numerous primetime television series, including: [[w:c:bodyofproof:Body of Proof Wiki|Body of Proof (2013), Burn Notice (2012), 666 Park Avenue (2012), Harry's Law (2012), House M.D. (2012), Person of Interest (2012), Law & Order: Criminal Intent (2010), Castle (2010), Nip/Tuck (2009), Lie to Me (2009), Medium (2009), Grey's Anatomy (2009), NCIS (2007), Numb3rs (2007), Dexter (2006), 24 (2006), Alias (2005), Touched by an Angel (2002), Crossing Jordan (2002) and NYPD Blue (1994).
He's had brief recurring roles on primetime shows: Desperate Housewives as Detective Heredia, Suits as Harry, the Cab Driver, Ghost Whisperer as Officer Luis Simon, w:c:csi:Miami:CSI: Miami as Juan Ortega, Saving Grace as Ronnie, The O.C. as Jason Spitz, Prison Break as Coyote, Bones as Mickey Santana, The Shield as Gino, ER as Eduardo Lopez, Law & Order: Special Victims Unit as Computer Forensics Tech, and on Off the Map as Julio where he guest starred opposite Valerie Cruz who portrays his wife in the episode of Scandal he appears in.
He's also had a few extended recurring roles on the short-lived NBC series The Event as Carlos Geller and on CSI: Crime Scene Investigation and played various different characters on the longest running crime drama Law & Order and New York Undercover as Jimmy Torres.
José's film credits, other than Twilight, include: The Forger (2012), Eye of the Hurricane (2012), Next (2007), Mission: Impossible III (2006), Lies & Alibis (2006), Constantine (2005), The Hunted (2003), The Crew (2000), The Opportunists (2000), Gun Shy (2000), Next Stop Wonderland (1998), Con Air (1997), Ransom (1996), Striptease (1996), Money Train (1995), Blue in the Face (1995) and The Cowboy Way (1994).
He's also made a few appearances in made for TV Movies: Widow Detective (2012), Snow White: The Fairest of Them All (2001) and For Love or Country: The Arturo Sandoval Story (2000). As well as a two short films, Smell the Coffee (2010) and The Tree (2008).
External Links
Edit