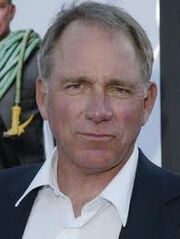 John Getz - born October 15, 1946 in Davenport, Iowa - is an American television, film and theatre actor, who portrayed Patrick Keating in the first season episode Dirty Little Secrets on ABC's Scandal.
Background & Personal Life
Edit
He began acting while attending the University of Iowa, where he helped found the Center for New Performing Arts. After doing a number of plays there he was encouraged to try acting a profession. He has a daughter, Hannah, from his marriage with playwright, Grace McKeaney.
He spent one season (1970-1971) with the American Conservatory Theatre in San Francisco, where he joined the Actor's Equity, and a year later helped found the Napa Valley Theatre Company in Yountville, California. While working in a winery, he helped found the Napa Valley Theatre Company.
Career Background
Edit
John has appeared in many television series, made for TV movies, feature films and short films throughout his career. One of his earliest roles was as "Shampoo Man" in a Johnson & Johnson Baby Shampoo commercial ad in the late 70s.
His TV credits include recurring roles on Joan of Arcadia, The West Wing as Congressman Mark B. Sellner, The King of Queens as Mr. Dugan, Day Break as Judge Tobias Booth, Trust Me as Peter Derby and Grey's Anatomy as Michael Breyers.
John's television guest appearances include Barney Miller (1977), Three's Company (1980), The Lucie Arnaz Show (1985), Murphy Brown (1990), JAG (1999), Providence (2000), CSI: Crime Scene Investigation (2000), CSI: Miami (2003), According to Jim (2003), Without a Trace (2004), Medium (2005), Cold Case (2006), Las Vegas (2006), Shark (2007), How I Met You Mother (2008), Mad Men (2008), Eleventh Hour (2008), Prison Break (2008), Criminal Minds (2009), Private Practice (2009), Ghost Whisperer (2010), NCIS (2010) and Touch (2012).
His film credits include Men at Work (1990), Don't Tell Mom the Babysitter's Dead (1991), Curly Sue (1991), Fortunes of War (1994), A Passion to Kill (1994), Held for Ransom (2000), Living 'till the End (2005), Zodiac (2007), Superhero Movie (2008) and The Social Network (2010)
References
Edit