— This page is protected so only Registered Users and Administrators can make edits to the page. —
You must create an account in order to make any edits.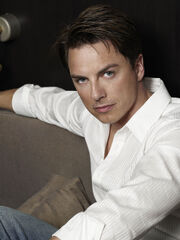 John Barrowman - born March 11, 1967 in Mount Vernon, Glasgow, Scotland, UK - is a UK television and Broadway actor, who portrayed Mellie's Fixer in the second season episode Any Questions?.
He best known for appearing on Doctor Who as Captain Jack Harkness, this character landed him to be the lead in a spin-off show called Torchwood. He has also performed in several musical productions.
John is currently a series regular on The CW's hit series Arrow, playing villainous Malcolm Merlyn.
He is one of few openly gay British actors; he's married to a British architect, Scott Gill.
External Links
Ad blocker interference detected!
Wikia is a free-to-use site that makes money from advertising. We have a modified experience for viewers using ad blockers

Wikia is not accessible if you've made further modifications. Remove the custom ad blocker rule(s) and the page will load as expected.