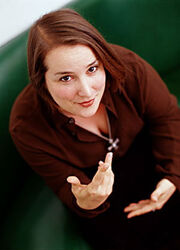 Jillian Armenante - born July 5, 1968 in Paterson, New Jersey - is an American television and film actress who portrayed Moira O'Donnell in the season two premiere White Hat's Off on ABC's Scandal.
She is best known for her role as Donna Kozlowski on the TV-show Judging Amy. She has two children with her wife, Alice Dodd, Hazel George Dodd Armenante and Heloise Margaret Armenante Dodd. Jillian gave birth to Hazel on November 21, 2004 and Alice gave birth to Heloise on December 12, 2008.
Jillian's feature-film credits include Contagion, Bad Teacher, A Mighty Heart, North Country and Girl, Interrupted. On television she has made guest appearances on several shows including Shameless, Medium, Party Down, Castle, The Closer, Private Practice, Las Vegas, ER, Six Feet Under, The West Wing and Northern Exposure. She has had recurring television appearances on Desperate Housewives, Hawthorne, and Grey's Anatomy.
In Seattle, she was a member of Annex Theatre for eight years, where she appeared in The Fatty Arbuckle Spookhouse Review, Bessemer's Spectacles, Tattoo Girl, and Hamlet The Musical. At the Annex she directed Triplets In Uniform, Exquisite Torture and Running From Boomerangs. She was the Associate Artistic Director for Alice B. Theatre where she produced Pretty, Witty and Gay and Memory Tricks by Marga Gomez at the Broadway Performance Hall.
Jillian is the best friend of Angelina Jolie after meeting her on Girl, Interrupted (1999). She is the godmother of Angelina's son, Maddox Jolie.
Reference
Edit
Ad blocker interference detected!
Wikia is a free-to-use site that makes money from advertising. We have a modified experience for viewers using ad blockers

Wikia is not accessible if you've made further modifications. Remove the custom ad blocker rule(s) and the page will load as expected.