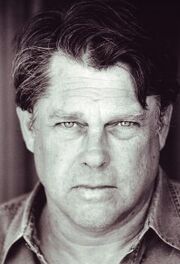 Graham Beckel - born December 22, 1949 in Old Lyme, Connecticut - is an American television and film actor, who portrayed Hank Tanner in the first season episode Crash and Burn on ABC's Scandal.
Background & Personal Life
Edit
His brother is Bob Beckel, a Democratic political adviser and Senior Analyst at Fox News. He is a character actor, known for his prolific guest appearances on television but has had prominent roles in several major films as well.
Career Background
Edit
Graham's television recurring credits include: Battlestar Galactica as Commander Jack Fisk, The Practice as Joel Helms, Cafe American as Steve Sullivan and All My Children as Chris Morgan.
He's has made several guest appearances on numerous primetime television series throughout his career, including: NCIS (2013), CSI: New York (2010), Castle (2010), The Cleaner (2009), CSI: Miami (2009), Las Vegas (2007), Heroes (2006), Monk (2006), Grey's Anatomy (2006), CSI: Crime Scene Investigation (2006), Six Feet Under (2003), Miami Vice (1986) and Kojak (1977)
Graham's film credits include: Peacock (2010), The Astronaut Farmer (2006), Brokeback Mountain (2005), Northfork (2003), Dark Blue (2002), Hard Ball (2001), Pearl Harbor (2001), Blue Streak (1999), True Crime (1999), L.A. Confidential (1997), Leaving Las Vegas (1995), True Believer (1989)
A few of the made for TV Movies credits are; Helter Skelter (2004), Point of Origin (2002), Lost in the Bermuda Triangle (1998) and Murder of Innocence (1993)
External Links
Edit