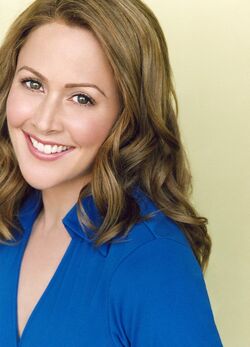 Erica Shaffer - born March 6, 1970 in San Diego, California - is an American television, film, voice-over and commercial actress, who portrays TV News Anchorwoman on ABC's Scandal.
Background & Personal Life
Erica received a BFA in Acting from The United States International University in San Diego and an MFA in Acting & Directing from the University of Arizona. Erica is a member SAG, AFTRA and AEA. Erica has been the lead in 15 independently produced feature films that have also enjoyed festival and distribution success.
She is a working actor in Los Angeles and has numerous television and over 200 commercial credits with at least 10 national commercials running at anytime; she is best known as the Shake Weight Girl.
Erica is married to fellow actor James Paola; they have a daughter named Amadora Erica Paola, born June 8, 2007. She is the daughter of David and Janice Shaffer.
Along with acting she is also a private speech and acting coach with her own practice on the Westside of Los Angeles.
Career Background
Erica is well known for portraying media related characters on various television series. She has been the lead in 15 independently produced feature films that have also enjoyed festival and distribution success.
She has made guest appearances on several television series including: Mad Men (2013), Castle (2013), Dexter (2010), Private Practice (2010), Men of a Certain Age (2009), Three Rivers (2009), The New Adventures of Old Christine (2009), Ghost Whisperer (2009), The Secret Life of the American Teenager (2008), CSI: Miami (2007), Las Vegas (2006), Charmed (2005) and The King of Queens (2005).
Erica has had a few recurring roles, appearing mostly on daytime television soap operas such as, Days of Our Lives, The Young and the Restless and on the short lived primetime television series Veronica's Closet.
She has appeared in a few feature films and independent films, such as; Detention (2011), The Truth (2010), The Fall (2008), Cattle Call (2006), Running Springs (2006), A Family Affair (2001), The Socratic Method (2001) and Catalina Trust (1999). Along with those films she has had roles in a few short film Taylor Warren (2010), Two-Eleven (2007), Puppy Love (2000), The Artists (1998) and the made for TV Movie Dad's Home (2010).
Erica also enjoys her work in voice over animation and has an array of "characters" to her credit including the lead heroines and villains in Pioneer LLC's "Nazca", "I My Me Strawberry Eggs", "Paranoia Agent", and "The Amazing Nurse Nanako". She is also a voice-over artist for radio commercials as well as documentaries for The Learning Channel and The History Channel.
A few of Erica's favorite roles from her theatre career at The Laguna Playhouse include, Ruth from "Harvey" – starring Charles Durning. Other favorite roles in theatre include: Portia from "The Merchant of Venice", Myrhhine from "Lysistrata", Joanne from "Come Back to the 5 and Dime, Jimmy Dean", and Rose of Sharon from "The Grapes of Wrath".
References
Gallery
Ad blocker interference detected!
Wikia is a free-to-use site that makes money from advertising. We have a modified experience for viewers using ad blockers

Wikia is not accessible if you've made further modifications. Remove the custom ad blocker rule(s) and the page will load as expected.