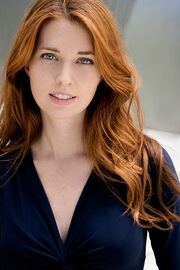 Christy Meyers is an American television and film actress, who portrayed Perky Counter Girl in the second season of ABC's Scandal.
Background & Personal Life
Edit
She attended NYU Tisch School of Arts where she received her Bachelors of Fine Arts degree in acting. She grew up in Indiana.
Career Background
Edit
Christy's television credits consist mostly of daytime soap opera dramas, although she eventually made the leap to primetime television guest appearances.
She's had recurring roles on two soap operas; Guiding Light as Zoey in 2005 and All My Children as Morgan in 2002. Her television guest appearance roles include on Private Practice (2011), Law & Order: Criminal Intent (2004) and her break-out role was on Saturday Night Live in 1999.
Christy has appeared in a few Independent films, with credits including: Ready or Not (2012), Sound of My Voice (2011) and Addison (2011). And she had an "uncredited" appearance in the 2001 hit Sci-Fi drama, Vanilla Sky starring Tom Cruise.
External Links
Edit
Ad blocker interference detected!
Wikia is a free-to-use site that makes money from advertising. We have a modified experience for viewers using ad blockers

Wikia is not accessible if you've made further modifications. Remove the custom ad blocker rule(s) and the page will load as expected.