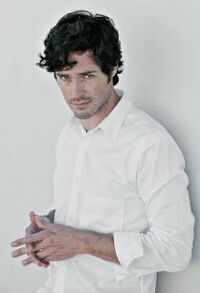 Brendan Hines - born December 28, 1976 in Baltimore, Maryland - is an American actor/singer/songwriter who portrayed Gideon Wallace in Season One of ABC's Scandal.
Personal Background
Edit
Brendan's parents are a former nun and former priest who fled Brooklyn and the church to marry and teach Philosophy.
After fascinating but failed stints as a prom photographer and a telephoning salesman he left Baltimore for New York and eventually headed to Los Angeles.
Brendan's songs are often about people who meet at street level and are primarily interested in escaping into bottles or beds. The music is folk; the sort of folk that you require to get you through a bad hangover or a broken heart; or into a binge or an unwise encounter. His songs are cautionary tales, post-love autopsies, wise-ass seductions, and ruminations on bad behavior delivered with candid whimsy, gallows humor and endlessly satisfying rhymes.
Career Background
Edit
TV Recurring Roles
Edit
TV Guest Roles
Edit
Film Roles
Edit
Carl in Deep in the Valley (2009)
Charlie in Heavy Petting (2007)
Peter in Ordinary Sinner (2001)
Brendan sings his songs solo with a backing band, under the name The Brendan Hines. In early 2008, he released an album of 10 original songs, "Good For You Know Who."
References
Edit
Ad blocker interference detected!
Wikia is a free-to-use site that makes money from advertising. We have a modified experience for viewers using ad blockers

Wikia is not accessible if you've made further modifications. Remove the custom ad blocker rule(s) and the page will load as expected.