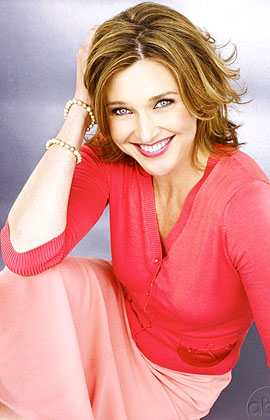 Brenda Lee Strong - born March 25, 1960 in Brightwood, Oregon - is an American actor who portrays Joan Reston in the second season & third season's of ABC's Scandal.
Background
Edit
She grew up in Portland, Oregon where she graduated from Sandy Union High School in Sandy, Oregon in 1978. She later moved to Arizona to attend Arizona State University to receive a Bachelor of Music in musical theatre. Brenda was Miss Arizona 1980 in the 1981 Miss America pageant. She is a certified yoga instructor and flexibility expert. Brenda has experience teaching at UCLA's Mind/Body Institute.
Brenda has one child with her husband Tom Henri; they married in July 1989. She gave birth to her first child, a son Zakery Henri (aka Zak Henri) in 1988. She filed for divorce from her husband of 21 years on January 14, 2011.
She shares her birthday with Desperate Housewive co-star w:c:desperatehousewives:Marcia Cross and Sex and the City's Sarah Jessica Parker. She was among the guests at Marcia Cross' wedding to Tom Mahoney.
Filmography
Edit
Brenda is best know for her role as Mary Alice Young on ABC's hit drama series Desperate Housewives and is currently starring as Ann Ewing on the TNT drama series Dallas. She replaced Sheryl Lee who was originally cast as Mary Alice in its pilot episode.
She and her past Desperate Housewives co-star Marcia Cross both starred in Everwood. Brenda guest-starred in a few episodes while Cross was a steady cast-member from 2003-2004. They never were in the same episodes. She also worked with co-star Felicity Huffman on the short lived TV series Sports Night. Brenda was a guest star while Felicity was a regular cast member.
Both in Everwood and Desperate Housewives she plays a family mother whose death in the pilot of the series sets the events of the show in motion. She reappears throughout both series in flashback scenes and dream sequences.
Brenda has been on five shows on The WB - 7th Heaven (1996), Gilmore Girls (2000), Dawson's Creek (1998), and Everwood (2002), The Help (2004).
TV Recurring Roles
Edit
TV Guest Roles
Edit
Film Roles
Edit
She teaches Yoga in Santa Monica, California.
She serves on the board of the Montana Shakespeare Company in Helena, Montana.
Awards & Nominations
Edit
2005-2006 – SAG Award: Outstanding Performance by an Ensemble in a Comedy Series for Desperate Housewives
External Links
Edit
Click on any or all of the links below to view more information about Brenda Strong and a full filmography.
Ad blocker interference detected!
Wikia is a free-to-use site that makes money from advertising. We have a modified experience for viewers using ad blockers

Wikia is not accessible if you've made further modifications. Remove the custom ad blocker rule(s) and the page will load as expected.