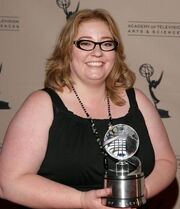 Alison Schapker is a writer and co-executive producer on Scandal.
Alison Schapker is an American television writer and producer. She is well known for her work on the ABC espionage series Alias and for the FOX science-fiction series Fringe.
She was a staff writer on the hit ABC series Alias and wrote several of its episodes along with her writing partner, Monica Owusu-Breen. She has also worked on the series: Charmed, Lost, Brothers & Sisters and Fringe.
The Lost writing staff, including Schapker, were nominated for the Writers Guild of America (WGA) Award for Best Dramatic Series at the February 2007 ceremony for their work on the second and third seasons.
Scandal Writing Credits
Edit
External links
Edit