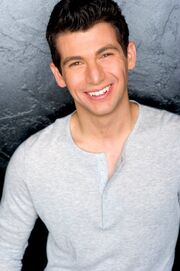 Alexander Greer is an American television and short film actor, who portrays Patrick in the second season of ABC's Scandal.
Career Background
Alexander is new to the world of television and film; he made his break through in 2010 in a short film called Forward' and a year later he appeared in a small film called The Horror of Barnes Folly (2011).
He returned to short films in 2013 appearing in The Plagarist's Game and then filmed his appearances on Scandal and just finished another short film called The Collector
External Links
Gallery
Ad blocker interference detected!
Wikia is a free-to-use site that makes money from advertising. We have a modified experience for viewers using ad blockers

Wikia is not accessible if you've made further modifications. Remove the custom ad blocker rule(s) and the page will load as expected.