2014 SAG Foundation Panel
Edit
On the evening of November 22, 2014 at Palihouse Holloway in Los Angeles, CA. all of the cast of Scandal were in attendance for the Screen Actors Guild Foundation Panel for Season Four. After the SAG Foundation Panel, the cast of Scandal also stopped by the SAG Foundation to share a holiday poem with their fellow performers. Go to here and give today!
Holiday Message
Edit
Twas the night before Givemass and all through the land,
Actors were thinking how could I lend a hand, there's one place we know that takes care of us all,
In Winter and Summer, through Spring and Fall,
They give everyday, to Artists like you, with financial assistance all the year through,
The workshops and panels, help us reach for the Stars,
For union performers, it's all mine, yours and ours,
And everything's free, they don't get a dime,
From do's and from fees and it's yours all the time,
To keep it all running, we need your help,
Gifts and Donations, a five star review on Yelp!
Support SAG Foundation, in any amount,
Giving is easy, and every bit counts,
with your end of year gifts, we can increase our might,
Won't you give now and to all a Good Night.
The Cast of Scandal's Holiday Message from SAG Foundation
→ See and enjoy 17 pictures from 2014 Holiday Message at Images from 2014 Holiday Message.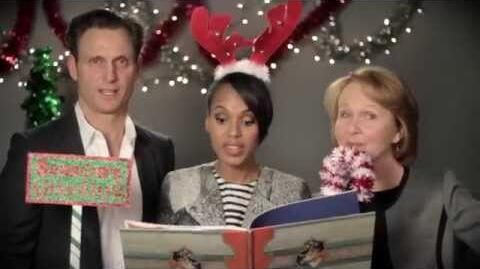 External Links
Edit
Social Media
Edit
Ad blocker interference detected!
Wikia is a free-to-use site that makes money from advertising. We have a modified experience for viewers using ad blockers

Wikia is not accessible if you've made further modifications. Remove the custom ad blocker rule(s) and the page will load as expected.